In Case You Were Wondering ...
To the best of my knowledge, these are the approximate whereabouts of some of the the bands mentioned on these pages, updated as information comes to hand....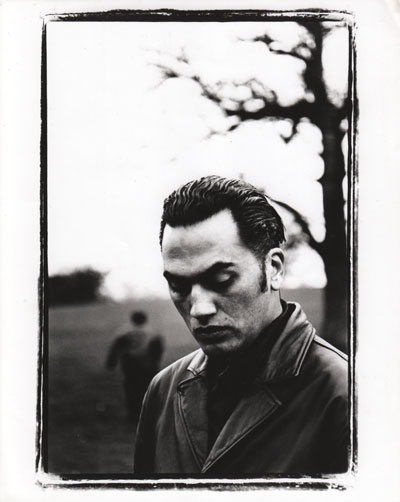 Paul Fuemana
Easily the most asked about person found on these pages. After it ended Paul lived quietly on Auckland's North Shore, with his wife Kirstine, and his family. Tragically he passed away on January 31, 2010 after a long illness.
Hundreds of requests for new OMC tracks arrived every year, from every country you can think of. New Zealanders remain unaware of just how big he was around the world.
RIP Pauly.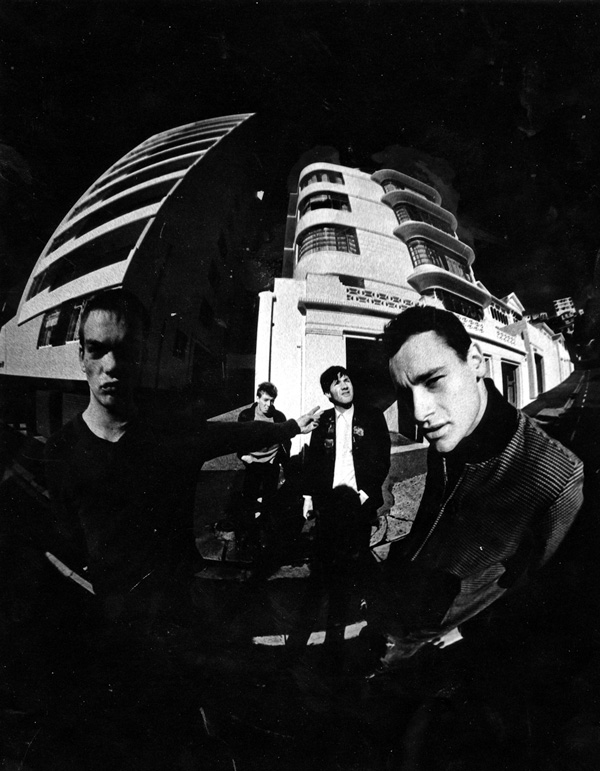 The Features in Wellington, 1980
Photo: Peter Cathro
The Features
Jed Town, Chris Orange and James Pinker still make music. Jed went became Fetus Productions and now DJs and records, and is an audio-visual artist of some reputation living just north of Auckland. He made several solo records as ICU, as well as performing with SPK. James Pinker was in Dead Can Dance and lived in London for years, and later, back in Auckland, was a member of Mesh. He now works with his partner Lisa Reihana in Auckland.
Karel Van Bergen lived for some years in Germany but passed away in 2013. Chris Orange was in Japan playing freeform jazz but is now based on Waiheke in Auckland's harbour. He tutors at Auckland's MAINZ. Jed has recently been playing again with Chris as The X-Features.
The Spelling Mistakes
All four still live in or near Auckland and reformed for three sell-out gigs in the late nineties. Nigel Russell owns Oceania Audio Sales. He lives north of Auckland. Nick Hanson is involved in other artistic ventures in Auckland . Warwick Fowler (nee Hitler) lives in Auckland and can often be seen driving around the city, grinning as always. Sady Julian Hanson passed away in March, 2021.
There was a compile of all their work a few years back.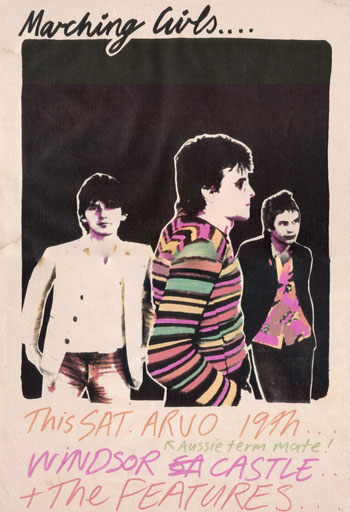 Marching Girls / The Scavengers
Johnny Volume lives in London. Des Hefner is a Dad in Melbourne. After leaving Marching Girls, Ronnie, as Brendan Perry (his real name) was half of Dead Can Dance who were extraordinarily successful over six albums, released for 4AD. He lives in Ireland where he owns a studio. In 2012 and 2018 Dead Can Dance reformed, released a new albums and toured.
The Scavengers reformed in 2004 for two Auckland gigs, without Brendan, but featuring Dion from The D4, and a special guest appearance from Michael Simons (nee Mike Lesbian) who is successfully in the advertising business in New York.
Mike sang Mysterex for the first time (it was, notoriously, written about him when he left the band). They reformed again in 2008 for the Ak79 reunion.
Their 1978 demos were finaly released in 2002, as an album, on John Baker's Zerox label. Another album was issued by Real Groovy Records in 2014.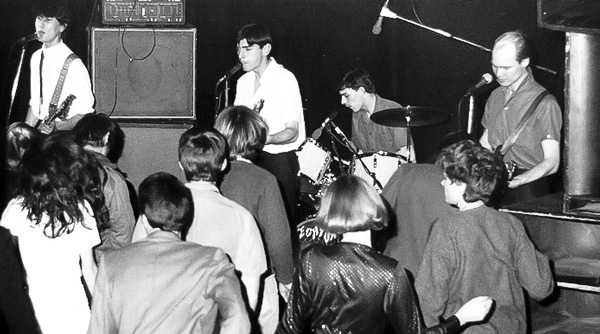 Techtones, 1980.
Courtesy of Steve Roach
Techtones
Chris Burt & Steve Roach do film and TV sound, Peter Solomon seems lives in Auckland and works in IT, and Jimmy Jurucevich is an electrician in Melbourne working at the University. Steve plays in The Grifters.
The Screaming Meemees
Michael O'Neill and Peter Van Der Fluit both live in Auckland and own Liquid Audio in Grey Lynn. Mike is also a property owner of some substance. Peter and Mike wrote a rock opera in 2010, based around Romeo and Juliet. It premiered in London in June 2011. Tony Drumm is a lawyer in Auckland for a aviation company. He also sculpts and has exhibited. Yoh lives in Byron Bay, NSW and is a landscape gardener. A reunion fell through a few years ago – which some might see as a relief!
Sady Mike had a stroke in 2014.
Blam Blam Blam
Tim Mahon managed a band called Mar-v-elle who had several top 40 singles in NZ, and was a major mover in the rise of South Auckland's urban sounds in the mid nineties. He now sells Real Estate in Auckland. Mark Bell is a session guitarist of some repute, and journalist in Auckland.
Don McGlashan led The Muttonbirds for years, and does film and TV scores. He lives in Canada. He has released his several solo albums. They reformed in 2003 for a one off tour and again in 2007.
Tim Mahon's workpage
Don McGlashan's site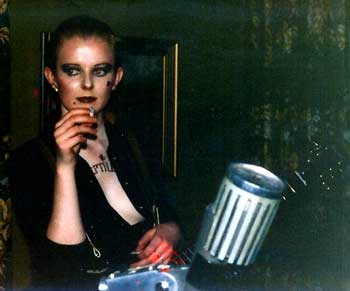 Trish 'Sissy Spunk' Scott, Suburban Reptiles, May 77. Photo Simon Grigg.
The Bongos
John Quigley plays in the Nairobi Trio in Auckland, Gill Civil is in British Columbia where she composes and releases music, and Phill Steel was a ski instructor in Japan and now plays music in NZ. Simon Mark-Brown is a commercials and film director of some note in Auckland.
Simon Mark-Brown's Film Company
Gill Civil
Tall Dwarfs
Chris Knox and Alec Bathgate still are. Chris suffered a stroke in 2009 but still appears with on stage when least expected. At the 2012 lauunch of the Toy Love live album in Auckland he leapt onstage with a young band - without warning - to perform an extraordinary take of Pull Down The Shades.
A tribute album was released in late 2009 and can be bought from his site.
The Newmatics
Brent 'Sid' Pasley ran a tourist boating company in Auckland until 2009, and is now a Landscape Gardner to the stars, Mark Clare is an actor in Auckland (he was the one who dived off the bridge in the iconic lotto ad, and could be seen on TVNZ's Street Legal), Kelly Rogers co-owns The Rialto Cinema in Newmarket, Benny Staples was in The Woodentops and Lava Lava, he still DJs around Auckland and played as part of The Crackhead Experience. He lives in Matakana.
Jeff Smith is a film director, computer programmer and designer. His 2011 film on Christchurch garage band, The Chants R&B, Rumble & Bang, was a hit at the NZ Film Festival. Chris Watts plays jazz professionally in Auckland. Simon Clarke where are you? Recently reformed, they had a sell-out gig in Auckland as a one off. Benny released a solo album in 2005.
The Newmatics finally released their debut album in 2015.
Sid's Landscape Company
Rumble & Bang Trailer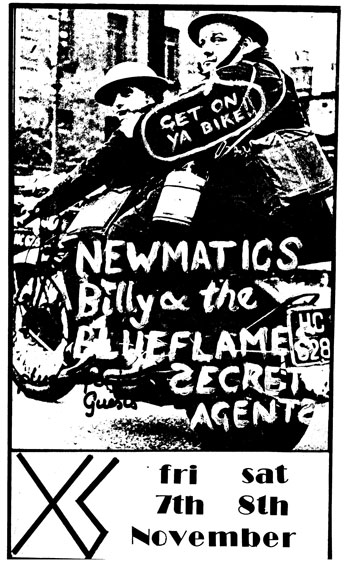 No Tag
Karl Van Wetering is in West Auckland and designs and manufactures furniture & Mark Sullivan lives on Auckland's North Shore after many years in London. Andrew Boak lives in San Francisco where he ran the highly respected Imperial Dub label and his own Green label. Paul is an accountant and part time Feng Shui consultant in AK - true. They can also be found on Facebook.
They recentlly jammed together for the frst time in years, followed by a performance at Auckland's Kings Arms.
The Dabs
Steve Thorpe, a great guy if there ever was one, sadly took his own life in the mid eighties. Geoff Hayden is in London, where he drives a black cab. Rowan lives in Sydney, works for a travel software company and plays country rock.
The Prime Movers
Chris Mathews was in The Headless Chickens, and Nick Crowther is in Melbourne, Australia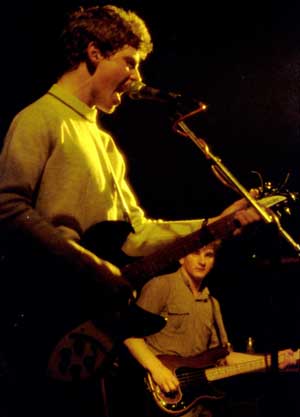 Prime Movers, Mainstreet, 1982. Photo unknown
Jam This Record
Was a one off from James Pinker, Alan Jansson, Dave Bulog, and myself.
SisterMatic
Basically the Newmatics plus Sina, the female vocalist on OMC's "How Bizarre" (aged 16). Sina found worldwide fame as "Sister Sina" in that song's lyrics but now lives happily in South Auckland with a family.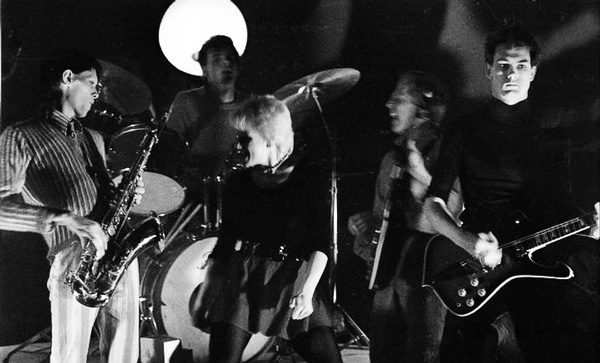 Suburban Reptiles filming Saturday Night Stay At Home video
The Suburban Reptiles
Buster was in the Swingers and The Models and lived in Perth with his family where he was a successful graphic designer and involved with Children's Television. Sadly Buzz passed away on 7 January 2018. Zero (Clare) is in West Auckland with her family and makes puppets, Billy is a restauaranter in London, Jimmy (Brett) is an academic in Wellington, after years in Hong Kong; Trish and Tony are in Auckland.
Bones was in Midnight Oil for years and now is a working bassist living in Nashville. Shaun (Brian Nichols) was unfortunately killed in a traffic accident some years back.
Des Edwards must be out there somewhere?
Trish Scott's son, Joel Little, was the co-writer and producer of Lorde's global smash hit 'Royales' in 2013, some 36 years after his mum first picked up a guitar to play with the Reptiles in Ponsonby. What goes around ...

Bones Hillman
Proud Scum
John 'Atrocity' Jenkins is in London working as a book-keeper; Alistair 'Rabbit' Duguid is successful in the NE US (in IT); Jonathan 'Jamrag' Griffiths is in Melbourne, writing and has a severals books, linked below; and Bruce Hoffman is in Auckland where he runs a Fire Safety business.

Jonathan's Book: The Road Behind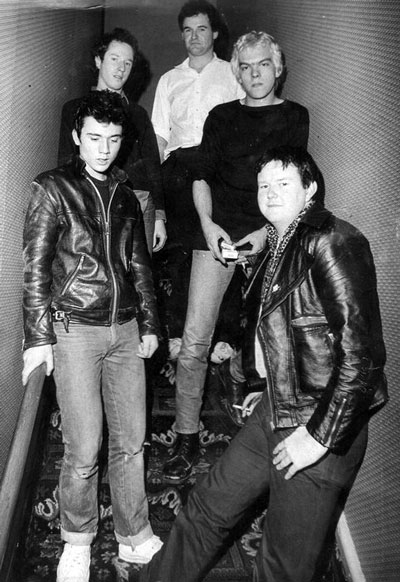 The Terrorways at the Globe.
Photographer unknown.
Terrorways
John 'No-One' Hunter is living in Queensland; Kerry Buchanan works at Southbound Records in Auckland and is a writer and commentator of some reputation; Dean Martelli works with Michael O'Neill and Peter Van der Fluit (ex Screaming Meemees) at their Liquid Audio; Peter Hoffman is in Auckland and plays in a rockabilly band; Gary Hunt is a artistic metalworker who sells to the rich and famous amongst others.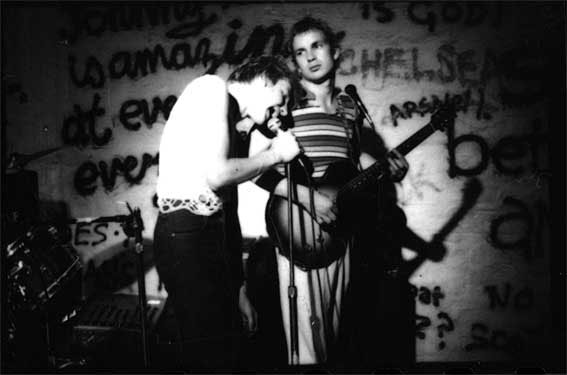 Scavengers @ Zwines. Johnny Volume and Mike Lesbian
Masochists / Rednecks / Europe
Kev Grey, Jimmy Sex, Spike, and Tony all still live in West Auckland. Kev is married to Zero from the Suburban Reptiles. Spike & Tony are in a band, The Stop Go Men, with Tim from Blam Blam Blam.
Secret Agents
Keith lives in Nottingham and is a Systems Analyst. Sadly 'Tall' Tony Jakich died a few years back in the UK of an illness, and is missed.
The Dentists
Dean Buchanan became a painter of some reputation in New Zealand, as did Denys Watkins. Ross Townshend owns a screenprinting business in Auckland. William Giffiths is a jeweller in Melbourne.
William Griffths' site
Dean Buchanan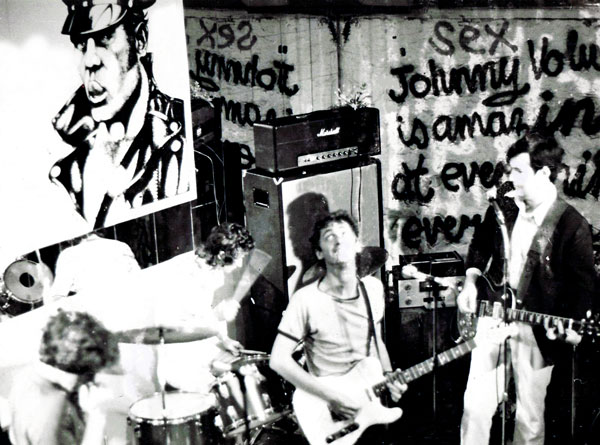 The Phantoms @ Zwines.
Photo unknown
Junk / The Phantoms
Frank Stark for many years ran the NZ Film Archive; Grant Dillon is an Alexander Techniquein in Auckland; Robbie Van de Lisdonk is a printer in Morningside, Auckland (and provided the photo above) and Iain Myers was last heard of as an accountant in Australia.
The Idle Idols
Paul Gibbs is an artist in Brighton in the UK; Julie "Jamie Jetson" Curlette moved to Auckland after years in London but sadly passed away in 2019; and Sandra Jones lives with her family in West Auckland. Leonie Batchelor is in Sydney where her partner is guitarist Mike Caen. Shona Bruce passed away in the 1990s.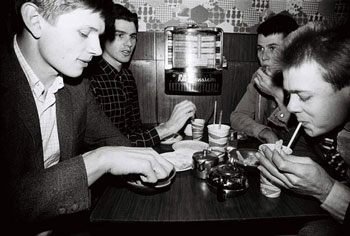 Penknife Glides
Penknife Glides
Stefan Morris is a graphic designer in Melbourne, Jules runs the Architecture IT Dept at Melbourne University, Steve lives in Auckland and Bangkok, and Cliff's writing songs in Sydney. An album, gathering their tracks, is available from their superb website.
The Ainsworths
Hillary Hunt is very successful in the finance world, Adam Holt is managing director of Universal Music NZ, and president of Rrcorded Music NZ.

Lava Lava
others..
Harry 'Ratbag' Russell is in Auckland after twenty years in New York where he released three seminal and highly influential albums under the name Harry The Bastard ; Paul Robinson (Berlin) edited the Qantas magazine in Sydney fotr some years; the sisters in The Aliens both live in Auckland. Yvette Parsons was in Dead Can Dance in the 1980s and is now an actor, and Giselle owns a catering business; Mike Allpress (City Slitz) owns Allpress Coffee, one of Australasia's biggest coffee companies; Mark McDonald (Brunetttes) is a practitioner of holitsic medicine in Sydney; Terry 'Towelling' Graham (Rebel Truce) is an artist in Auckland; Eddie Olsen, drummer for The Instigators, later played in Coconut Rough and The Exponents and is now a freelance drummer in Manchester, UK.
Toy Love's site
Allpress Coffee
The Chills' Site
Simon Coffey's rather splendid poster and artwork archive

Some of the photos on this site come from Anthony Phelps, who, as a newspaper photographer in the early 1980s, took hundreds of quite incredible shots. One day, like Murray Cammick, I hope he'll put a book or site covering those together. In the interim he can be found here.
as for the rest - sorry can't help you