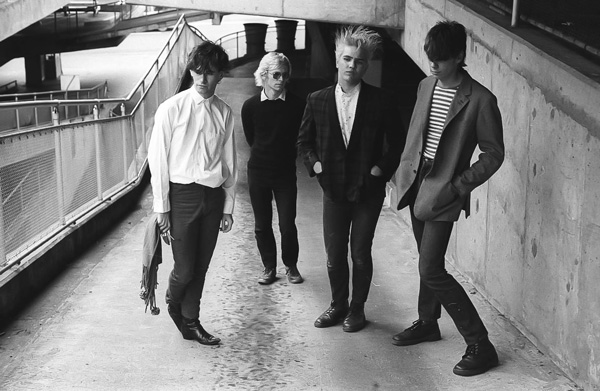 See Me Go
The following was a personal memoir of The Screaming Meemees written by myself for the 2009 re-release of the album If This Is Paradise, I'll Take The Bag. The original can be found in three parts on Amplifier.
Sweetwaters, January 1983. The Screaming Meemees had just - that week - released their final, and to my mind, best single, the stomping Stars In My Eyes.
The record came in two formats, the 7" and the 12", the second of which featured the first extended remix released by a New Zealand artist, (and an almost On-U Soundish dub of a track from their album on the flip, inspired by the early work of Adrian Sherwood amongst others).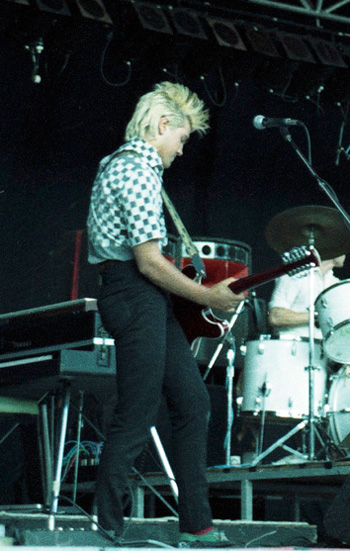 Mike, Sweetwaters, 1983.
Photo:
Jonathan Ganley
Stars In My Eyes was the first record produced by the band themselves - or a least a member of the band (Tony, with soundman Tom Sampson and Glyn Tucker Jr) - and was easily their most definitive and mature statement, a solid pointer towards the future.
They were on the main stage of Sweetwaters, in front of a crowd of some 30-40,000 amped up bodies, who after two days of drinking, dust and sun were at best unpredictable and could go either way. It was 8pm on the Saturday night, the prime spot for any local band, immediately before Simple Minds (or was it The Psychedelic Furs?), the headliners.
The Screaming Meemees were one if the two biggest bands in NZ (DD Smash was the other) and just as they were going on I was told the cricket score from the game in Australia - New Zealand were winning (yes I know it's unusual, but there you go) so I told Tony, in what if I may pat myself on the back, was a inspired moment, to announce this. This he did, and the massive crowd - which stretched back up into the dry hills behind - went absolutely nuts as they did for the rest of the set. It was a triumphant moment and we all felt the world beckoned.
Within 4 months it was all over, and they bowed out with the biggest crowd numbers ever seen at Auckland's large Mainstreet Cabaret - bigger than any international act, bigger than Split Enz.
Why?
I guess - more or less, and inevitably - they grew up.
Over the Hills and Far Away..
In the years since, New Zealand has almost forgotten Meemee-mania, however for a couple of years these 4 - Tony Drumm, Michael O'Neill, Peter Van Der Fluit and a drummer who just went under the name Yoh - were a national phenomena.
Formed in the music room of the Catholic boys school, Rosmini College, they led - in late 1979, early 1980 - the Rip It Up magazine tagged North Shore Invasion, when what seemed like hundreds of bands (but was in reality only a couple of dozen) stormed across the harbour bridge and filled the stages of any inner city venue that would allow them to support a 'name' band.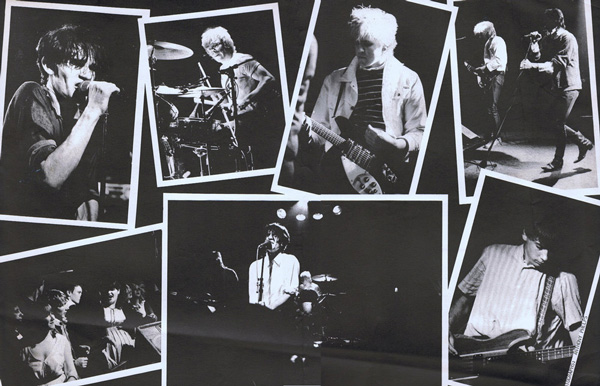 The poster that came with the first 500 copies of the Sunday Boys 7".
Photos: Anthony Phelps, Layout: Murray Cammick
The post punk revolution meant that there were venues everywhere in the city and these bands arrived just at the right moment to fill them, so fill them they did, with queues outside the clubs, bars, and - importantly - the church halls and sports clubs of urban Auckland, both inner city and across the sprawling suburbia of the East and North.
Influenced by the ska bands coming out of the UK, and by sixties pop (The Monkees would play a bigger part in their sound than The Clash), these Shore acts soon garnered large and very loyal followings from the crowds whose elder siblings had followed the punk bands of 77 / 78, but none more so than the still under 17 year old Screaming Meemees whose innocently dumb, but really very smart, originals included the infectious Till I Die (with lyrics from Catholic hymns), the inane, but extraordinarily catchy Pointy Ears, and Can't Take It. The last song, in late 1980, after months of supporting the likes of The Features, The Clean, Shoes This High and The Spelling Mistakes, was recorded as a one off side of a double A sided single (with The Newmatics), for release on Bryan Staff's Ripper label.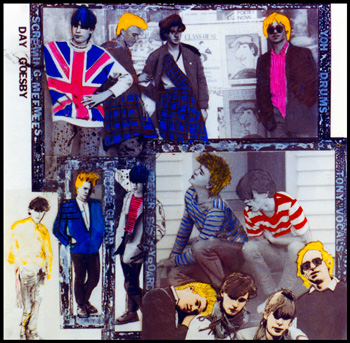 The sleeve to the unreleased 12" of Day Goes By, designed by Michael
O'Neill. Instead, Stars in My Eyes was recorded and the 12" version of
Day Goes By ended up on the flip.
I'd seen the Meemees countless times and wanted them badly for my new Propeller label, so I plonked them on my forthcoming Class of 81 new-artist compliation album and swiftly signed a long term deal with the band.
By the time Can't Take It came out in March 1981- it entered the lower end of the singles chart (and was, as a bonus, picked up as the theme for a kids music video show) - I was already recording them.
The obvious track for the A side of their debut single proper was the live favourite See Me Go.
An earlier take of this had been demoed earlier, and had appeared as one of the few interesting tracks on a quickly-in-the-bargain-bin Radio Hauraki new band collection. It had however, from that release, found it's way on to the Radio B (now bFm) top ten, where it had paked at number one. The song had legs but despite its airplay, it was impossible to find unless you bought the Hauraki album.
By late Feb, early March - managed originally by David Merritt (now a poet in Palmerston North) - they were about the biggest thing in the city, with sell-out gigs, often two in single a night. Popularity was teetering on frenzy at some gigs too.
There was a hurry to get another record out but See Me Go was proving tricky to re-record. Despite night after night and mix after mix at Harlequin Studios it was proving hard to nail a version that equalled the original - Steve Kennedy produced - demo. I was inclined just to remix that demo but the band, especially Tony and Michael, were adamant they wanted to record a more contemporary version using the 24 tracks - the demo was 8 track - we now had access to.
We'd bought in Pop Mechanics vocalist Andrew Snoid as a producer, keeping Kennedy as engineer, and there were now three versions, including one produced by Harlequin owner Doug Rogers.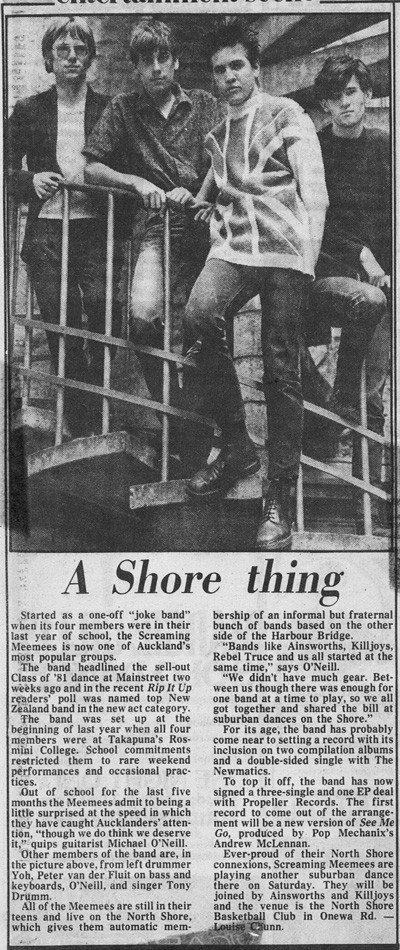 Auckland Star, March 1981
I'd decided on a limited numbered edition of a 12" with four tracks, including two of the takes of See Me Go, Till I Die - also recenty recorded at the sessions, in more or less one take - and a live recording of another early favourite, Poison Boys.
The record would be limited to 500 copies and that was it.
The news that there were only to 500 spread fairly quickly - aided by ourselves and a compliant Radio B and shops started getting orders. I'd decided on an unlimited edition 7" too, with just two tracks, See Me Go and Till Die, however this would be available from the distributor (Festival) for just one week. After 7 days, whatever it had sold, it would be deleted forever.
Outwards...
The band had also made their first jumps outside of Auckland with hugely successful trips to Wellington and Christchurch - the Class of 81 gig there was a sold-out Easter Monday at The Gladstone.
I'd also assumed management duties, after the band had told me it was either me or a break-up. And so it was to be - rather reluctantly on my part.
In July 1981, with a single about to be released, we all headed off on the now legendary Screaming Blam-matic Roadshow with two other Propeller bands, The Newmatics and Blam Blam Blam, touring the campuses of the nation.
In Christchurch the test pressings of the 7" single arrived, and we were shocked to find that Festival's marketing manager had taken it upon himself to remix the A side - and it was utter garbage. I made quick calls to the studio, to Festival's production manager, and to the pressing plant, and within a few days the offending mix was assigned to the bin and the Snoid mix was back on the A side. To this day Festival's errant marketing manager - who went on to be MD of a major record company - doesn't know, or couldn't tell that his mix was dumped.
See Me Gone
The delays had caused a feeding frenzy and we had orders for the 12" far beyond the 500 copies, so rationing to retailers had to be enforced. We felt like we were being pricks, and I fielded countless calls from often irate record stores asking for a few more, but 500 was 500 (505 actually including test pressings) and it was firm.
Back from the tour, I was in Sounds Unlimited on release day and watched the frenzied mayhem. We sold all the 7" we'd pressed within 24 hours too. Despite requests from Festival I declined to press more.
The single entered the chart easily at number one that week, survived a challenge from Radio Hauraki who simply couldn't understand how a record they'd refused to play (no commercial radio played any NZ releases) had charted that way, then tumbled, since there was no stock for sale anymore, to 13 the next week, then into the 40s and gone.
It was quite a thing - the very first NZ single ever to enter the charts at number one. I was urgently called into the Festival offices where exuberant managing Director, Ray Porter, suggested we rush out a live album immediately, adding the single, to cash in…uh no.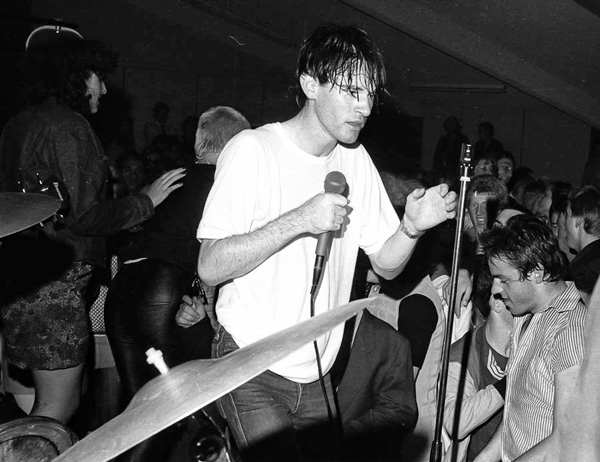 North Shore Netball Club.
Photo: Murray Cammick
In fact we had nothing much in the can, and the Meemees, after two years of playing live three or four times a week, had decided that they didn't want to play in front of a crowd quite so often in the future, setting the scene for the couple of years when the gigs would be less common but rather bigger. Three nights at Mainstreet the largish cabaret in upper Queen Street once a month, and national tours every few months, pretty much all sold out, with extended periods, at some expense, in the studio, became the rule.
Most bands in New Zealand survived by playing extensively but we made the very conscious, perhaps foolhardy, decision to jump head first into Harlequin Studios - with producer Ian Morris, and engineer, Steve Kennedy - and record an album. We didn't have the funding but we had a sympathetic studio and faith.
Lots and lots of faith. Which is mostly how independent record labels work.
Paradise
For most of the last part of 1981 and the first few months of 1982 The Screaming Meemees were in the studio from midnight to dawn almost every week, and it soon turned into quite a social scene. I tried to haul it in but the sessions were often host to 20 or so people, friends, girlfriends and assorted hangers on. It wasn't an atmosphere that - ideally - was very conducive to recording a make or break album, and the budget of course rocketed - and then rocketed again.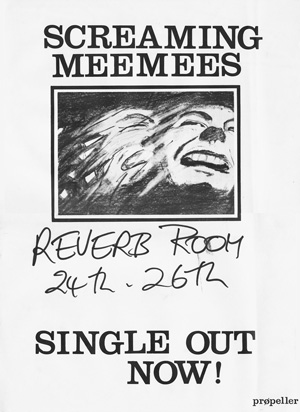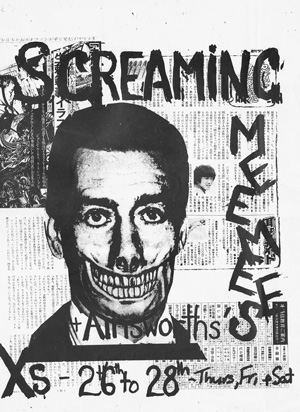 But, yes, we had faith, and I guess we weren't the first indie to put it on the line for an album or two (we also had the Blams recording - not inexpensively - at the same time).
As time passed we worked out in early 1982, that we needed to sell a minimum of about 10,000 albums to cover costs (coupled with the costs that our repeatedly recorded number one single had never come near to recoupeing) and, with the clock ticking and the parties in the studio ensuring that efficiency was a forgotten virtue, that figure quickly crept up to 14,000 by the time it was completed.
NZ albums sold, on a good day in 1982, with absolutely no commercial airplay unless you were Dave Dobbyn or Split Ends, in the low thousands.
Eventaully I threw a tantrum, and Paul Rose and myself made a point of being in the studio each and every night - limiting access to band and recording studio staff only. The bulk of the forthcoming album was recorded in the couple of weeks after we took hold thus.
The first fruit of the sessions, with a Murray Cammick designed sleeve, was the anthemic Sunday Boys, released at the end of 1981. It made number 11 nationally, but, in Auckland (there were Auckland charts then) hit number one for two weeks. The way-oh way-oh chorus inevitably became a live audience chant, and at Sweetwaters the sound of so many thousands singing it acapella across the hills was quite a moment.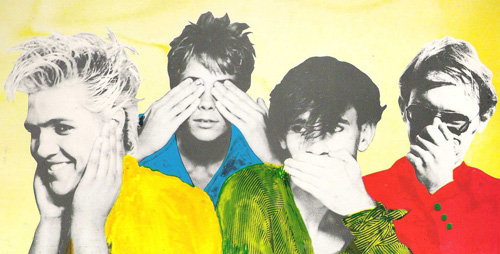 The image from the rear sleeve of Paradise.
Photo: Philip Peacocke
The finished album was wrapped in a sleeve designed by Peter Urlich, from a Kerry Brown image. If This Is Paradise, I'll Take Bag lifted it's title from the opening tune My Accent, which in turn lifted it from the iconic kiwi TV figure, Selwyn Toogood's 'the money or the bag?'.
The jump for the Screaming Meemees, from the ska pop of See Me Go, a year earlier, was immediately apparent and, to many rather confusing. This was an album that was wide, very adventurous, and thoroughly in touch with the world outside NZ. Even Sunday Boys, added reluctantly to side one (the band wanted At At, the B side of Sunday Boys, but Festival insisted on at least one of the hits) sounds out of step with the rest of the material.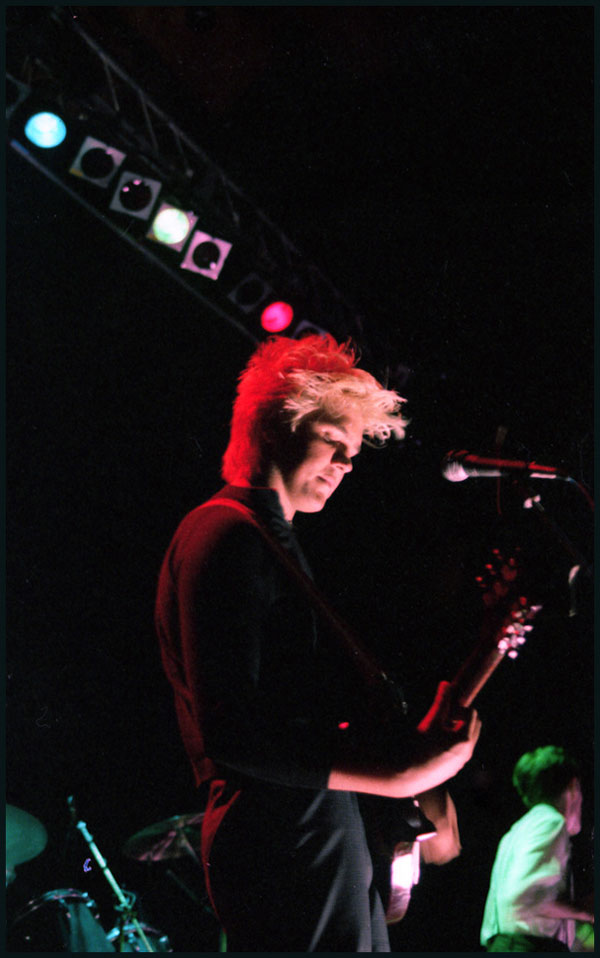 Mike @ Auckland Town Hall.
Photo:
Jonathan Ganley
AllMusic probably said it best:
If This Is Paradise, I'll take the Bag was recorded in 1981 with producer Ian Morris and boasted a eclectic range of influences in the mix of power pop, electro, dub, and funk -- styles not usually associated with New Zealand rock sound. Their work for the album brought the Screaming Meemees closer to what U.K. groups A Certain Ratio and Rip Rig and Panic were up to.
The album entered the NZ charts at number 8. Still it was a very long way from the 14,000 sales the band needed just top cover costs and it proved a burden.
Watching the Day Go By
Despite the still strong fanbase and the implied success of an album in the top ten, the band continued to be a little uncomfortable and needed to grow.
By late 1982 they'd discarded most of their pre-Paradise material live, even See me Go, with the early All Dressed Up and a couple of others being heavily re-written to reflect the harder edged funk and alternative influences of the band. These were merged into a set of new material that was much tougher, and more rhythmic than anything they'd done before.
In late 1982 they entered the studio again, this time Mandrill, and with a couple of new songs from the large batch of unrecorded songs Tony in particular had been working up, Stars in My Eyes, a fast, brass and percussion driven funk track, and Can't Sleep Today, slow, almost grinding. Both were recorded for single release, produced by Tony, Mandrill's Glyn Tucker Jr., and the band's soundman, Tom Sampson, who'd become integral to the sound they'd been trying to achieve live. Stars was chosen as the next single and a couple of extended takes of it were mixed for another 12". Can't Sleep Tonight was kept for the next single, and the tapes sadly have gone AWOL.
After the initial track laying for the single, Michael left the Meemees following an argument with Tony over the split with his girlfriend - who just happened to be Mike's sister. He took no further part in the sessions, and for some long forgotten reason (sympathy for Mike I guess), Peter too was mostly absent after he'd recorded his keyboards and bass - the last of which drove the finished recording.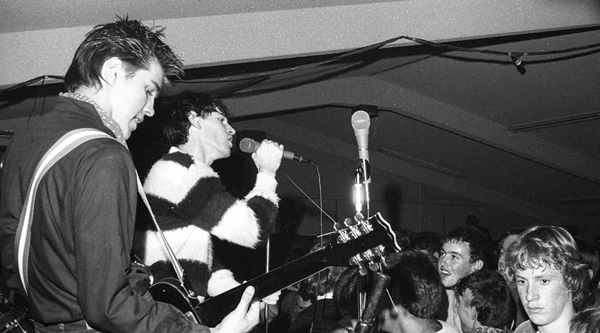 Mike & Tony, North Shore Netball
Photo: Murray Cammick
Thus it became mostly Tony's baby and was a quantum leap not only for the band, but NZ rock music in general. Nothing like it had been recorded in NZ, and it sounded like nothing that had come before.
Festival Records, forced to sell it, hated it and asked if I could slow it down. Once again, no.
The video for Stars in My Eyes was a budget affair - after the sessions, we simply no money at all left, and there were no such things as video grants in pre-NZoA New Zealand. We needed to make this one ourselves, feeling that we'd been pretty badly served by those TVNZ videos to date, and the record was too important.
My neighbour, Willie Kiddell, was a filmmaker and agreed to do it for love of the song. Thus after splashing out $129 for some old TVNZ film stock, he and Tony put together the clip, and - as low budget as it very clearly looked - it had it's moments, most especially the gorgeous shots of Tony in profile. Mike and Peter were not present for this either, with the band's roadie - we called him our mascot - Terry Towelling standing in as a shadowy profile.
And that was....
A reconciliation of sorts was affected at a long - very heated - meeting in my office high above Queen Street. There were all sorts of other pressures too, such as the standard third parties wondering why they weren't stinking rich after being on TV and playing to so many over so many years. That, however, is what third parties always throw unhelpfully into these sorts of mixes, and the reality of running an organisation like that for that period usually needs to be inserted into the mix too, to add a little reality.
And so a few more gigs were played including the Brown Trout Festival in Dannevirke, a chaotic (in that crowds went down the street) weekend in Mt Maunganui, and the aforementioned Sweetwaters in January 1983.
After Sweetwaters, with another top twenty single the band sat down and decided that they'd either make the jump overseas - to the UK - which meant years more hard work, or they'd call it a day. In the end it was Mike who decided that was it, and a final series of gigs at Mainstreet were planned and announced as their farewell.
The two nights were mostly to pay off a few bills, and say a farewell to those who'd loyally followed the band since the beginnings, but the queues stretched down Queen Street to the corner of what is now Mayoral Drive. Tony turned up an hour late on the final night but it mattered not. The sweat dripped from the roof, there were tears in the crowd and I was subject to pleading girls, distraught over the demise of the band.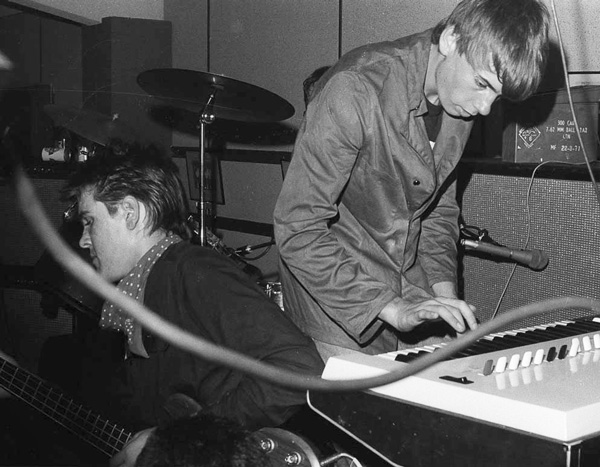 Peter & Mike @ North Shore Netball Club
Photo: Murray Cammick
And it was over, almost.
They played twice more - once at the This Is Serious gigs in August, to help cover the still outstanding album bills, and once at Michael's first wedding.
And then it was over - completely.
For me, the three years were an often stressful but never less than electrifying massive roller coaster that I'd never swap any part of.
As manager of a band who were mostly either just out of school or still in school (we used to have to smuggle Peter out of his room at night for gigs, often with his then girlfriend, Charlotte Dawson, waiting with us in the van - girlfriends went everywhere with the Meemees, they were just a part of the ongoing, and often extensive entourage), I had to act as manager, guardian, peacemaker, parental figure and confidant and it was an endless juggle of emotions, tantrums and demands. But a bloody joyful juggle nevertheless.
What I remember mostly was the huge adventure of it all.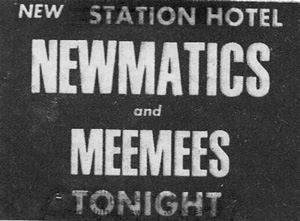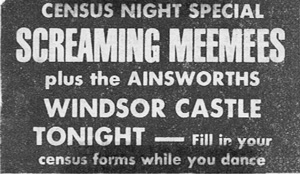 We travelled up and down New Zealand countless times, sitting in one horse towns trying to find gas at 3am; leaning against river walls in Otago with yet another cheap steak pie and less than two hours sleep on our way to a three nighter in Christchurch; battling to keep the road crew from spending all the night's profits in the house bar without my knowledge; being told to leave Te Puke because we were too punk rock; picking Mike up off the floor of the Uni café in Hamilton because some girl - in love with him but angry because she'd been spurned - threw a drink over him and electrocuted him; watching the Waitara boys brawling with the skinheads from Wainuiomata at the Bellblock in New Plymouth- as we hid like Auckland poofters behind the PA stacks; getting taken to some party in Taranaki where a local Maori girl, all 20 odd stone of her, decided that she was having Mike and having to run to the van as fast as legs would carry; the band finding out that the much anticipated trip to Ruapehu also meant they had to play for 4 hours to drunken ski bunnies; IG4330, the red Bedford Jumbo which seemed to have knack of sucking that very last dollar out of the bank account or the petty cash just when it was most needed, and seemed to lose a muffler every week; sending - later to be EMI MD - Chris Caddick out on the road as road manager and getting calls from the band asking for him to be fired because he was doing his job too well and not taking any shit; but mostly just sitting with Tony, Mike, Peter, Yoh, Tom, Terry, Karen, Jack, Adam or whoever else happened to be on the road with us and laughing and chattering without reason about nothing very much in particular. We did a lot of that.
See me go, indeed.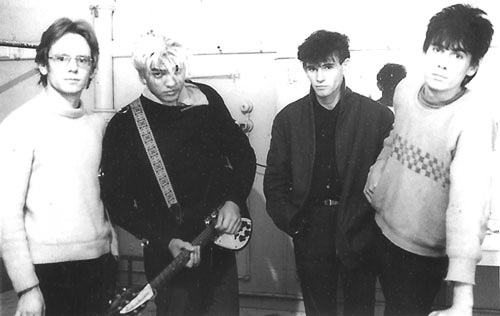 A couple of the images on this page come from Jonathan Ganley's wonderful archive and I'd be remiss if I didn't point the viewer in
that direction.