Part 2: The 7" Singles
REV 1: The Features - Perfect EP
June 1980
A: City Scenes

B1: Secret ; B2: Police Wheels

Recorded at Mascot Studios, April 1980. Produced by The Features and Simon Grigg. Engineered By Steve Crane. Sleeve (front) by Jed Town & Mike Brookfield, (back) by Simon Grigg
Our first single, recorded at Mascot Studios for a cost of $1100, which left me with a shortfall of $700. It sold about 1000 over three or four weeks - breaking even was never our strong point! A wonderful record, full of angst and drama, which summed up Auckland pretty much for me at the time.
The video of Secret (a twisted version of The Beatles' Do You Want to Know a Secret - Jed Town was a huge Lennon fan) was banned because it supposedly featured the band throwing bodies off Grafton Bridge onto the motorway (which they did do - not real bodies of course but those below were rather taken aback at falling corpses).
The single reached number 35 on the singles chart which flabbergasted everyone, especially me. We simply had no funds to press any more so we deleted it.
The Features - City Scenes
REV 2: The Spelling Mistakes - Feel So Good
June 1980
A: Feel So Good

B1: Hate Me Hate Me; B2: I Hate The Spelling Mistakes

Recorded at Mascot Studios, April 1980. Produced by Fane Flaws (A), Barry Jenkins (B. uncredited). Engineered by Steve Crane.
This was simultaneously released with REV1 and also sold around a thousand copies. We were approached by Phonogram to put it on a solid gold type album. They turned up in in my record store with a cheque for $2000. I was ecstatic, having been trying to work out how to pay the studio bill - the band had won a day's free recording at Mascot Studios after winning a rigged Battle of The Bands but had managed to run up another $2000 on the tab.
Thus we briefly broke even until Phonogram heard the song and asked for their compilation advance cheque back. I thus spent the next few weeks dodging the transvestite the studio sent as a debt collector until I managed to raise the money.
The Spelling Mistakes had managed to get themselves banned from just about every venue in NZ so were unable to contribute.
The record reached number 29. We had the same problem with pressing more as with REV1. It sold 732 copies.
The sleeve was scratched on the way to the printer and you can still see it on the cover. The a side was re-recorded for a beer ad in 2005. The re-recording didn't, in my opinion, capture the spirit of the original but it was great that the guys got a hefty cheque.
Produced by Fane Flaws and Barry Jenkins.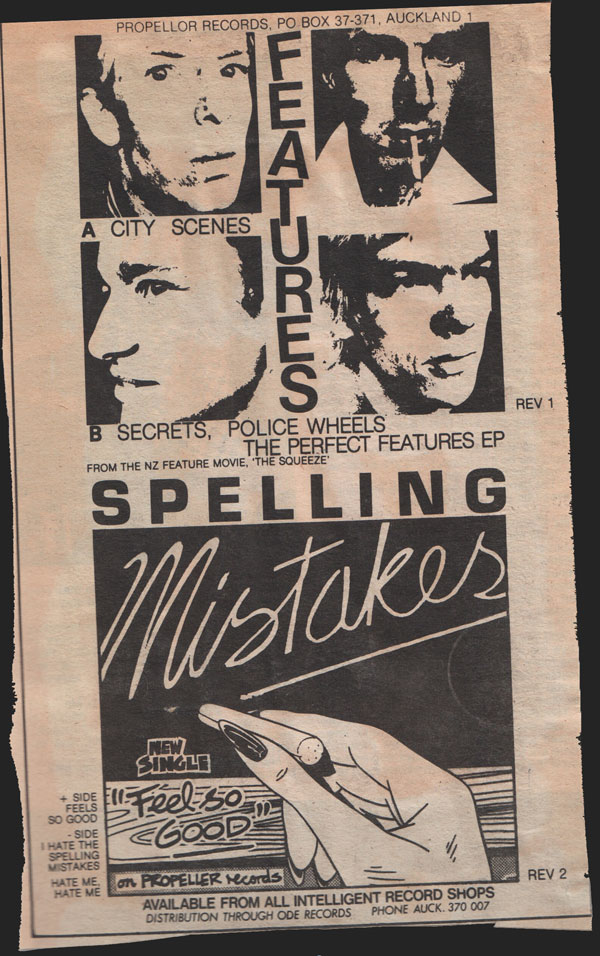 | | |
| --- | --- |
| | REP 3: A Proposed Suburban Reptiles single. Not released |
I put together a 4 track EP (Saturday Nite / Megaton / Razorblade Rosie / SIS ) but the tapes to the last two went walkabout. I'd even placed a press ad for it and had a sleeve. Half of Rosie later turned up and was finally issued in 2004 by Simon Kay's Raw Power label as a limited 7".
REV 4: The Marching Girls - True Love
August 1980
A: True Love

AA: First In Line

Recorded at York Street Recording Studios, Melbourne, Australia, March 1980. Produced by The Marching Girls. Engineered by Daffy.
The band that used to be The Scavengers were now based in Melbourne and managed by former Split Enz guitarist Wally Wilkinson, and former Ray Columbus & The Invaders' guitarist, Dave Russell.
This single was initially released in mid 1980 by indie label Au Go Go in Australia. It was a double A side and featured a much smoother rendition of the song True Love than the one released earlier by The Scavengers on the Ripper AK79 album. This sold about 400 in the domestic pressing making it very rare now. Again, like a stuck record, we had no money to press any more, so we imported another 200 from Australia.
It was also released in the UK on Pop:Aural.
REV 5: Techtones - That Girl
November 1980 (Festival cat # K111)
A: That Girl

B: The Silencer

Recorded at Harlequin Studios, Auckland, Sept 1980. Produced by Techtones. Co-produced by Doug Rogers. Artwork by Terence Hogan.
The Techtones mutated from a series of Zwines punk bands, including The Stimulators and Sheerlux.
This single was pure power-pop and our first single through our new deal with Festival Records, who didn't really know quite what to do with the band. We grimaced at some of the promo things they did without asking but at least we now had the means to press more copies when needed. The band headlined the Retailers Convention in Rotorua in October, which was quite a raucous weekend for us all.
They later released a single on CBS, and an album for Ripper Records.
Festival added a second catalogue number to all releases after this date (their computer couldn't handle ours).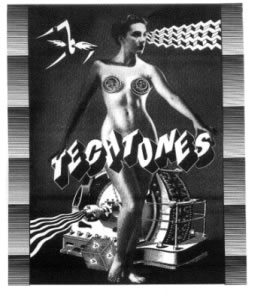 Techtones tour poster, designed by Terry Hogan
| | |
| --- | --- |
| | REV 7: Proposed singles by Techtones, Spelling Mistakes, the Fane Flaws. None were released so this unlucky number was never used. |
The Spelling Mistakes tracks came out on their semi-legit compilation in 2002, but neither the Techtones or Fane's tracks have ever appeared anywhere.
REV 8: The Screaming Meemees
27 August 1981 (Festival cat # K8421)
A: See Me Go

B: Till I Die

Recorded at Harlequin Studios, Auckland, April-June 1981. Produced (A) by Andrew Snoid, (B) by Steve Kennedy. Engineered by Steve Kennedy. Mixed (A) by Simon Grigg & Steve Kennedy. Artwork (front) by Tony Drumm, (back) by Simon Grigg.
The very first NZ single to enter the NZ charts at number one - and without any radio play at all.
How many times was this recorded and mixed? We finished the mix and went on tour, only to receive a "remix" that, unbelievably, the marketing guy at Festival had done. It was completely unlistenable garbage, although we were told that he'd substituted it for our mix on the release without asking. A quick call to the pressing plant meant ours was re-substituted - the other one was quietly dumped - so the official release was our mix. The hit A side was produced by Pop Mechanics' Andrew Snoid and remixed late one night in June by myself, with Steve Kennedy.
The funny thing was the marketing guy never noticed the switch.
We deleted it the same week it was number one for some odd reason.
The front sleeve was a hand-drawing by Tony, with a Dave Merritt photo on the back, laid out by myself on the Propeller office table in a hurry.
The video can be seen on the band's page.
The video of Till I Die is below: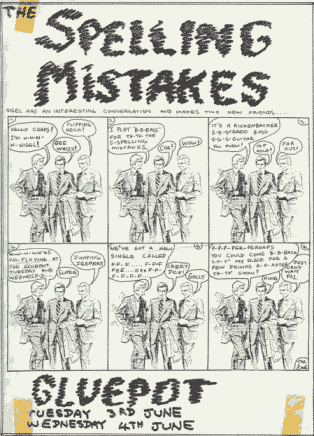 One of Warwick Fowler's infamous Spelling Mistakes posters.
REV 9: The Garage Crawlers - Only You Tonight
February 1981 (Festival cat # K112)
A: Only You Tonight

B1: Normal Dunediner, B2: V-8 Song

Recorded at Harlequin Studios, Auckland, Dec 1980 - Jan 1981. Produced by Simon Alexander. Engineered by Doug Rogers.
The two B sides on this ran together as one track so the one you got was random. We got the idea from those old racing game albums that you could buy to bet on at home. You never knew the outcome. The idea proved tricky as half the ones from the plant just had two tracks separately.
This band, led by Simon Alexander, who also recorded with The Features' Jed Town, got a massive grant from somewhere to do a video and it was filmed after an all day extravaganza with a big live gig. The video sadly, was not that good and only got shown once.
Simon went on to quite a career as a writer and producer in NZ, Australia and the UK
REV 11: Blam Blam Blam - There Is No Depression In New Zealand
July 1981 (Festival cat # K8422)
A: There Is No Depression In New Zealand

B: Got To Be Guilty

Recorded at Harlequin Studios, Auckland, May 1981. Produced by Blam Blam Blam. Engineered by Doug Rogers. Artwork by Richard Von Sturmer and Blam Blam Blam.
We can claim to have released the two anthems to the Anti-Springbok tour movement (this and Riot Squad), which divided and rocked New Zealand in a way that is hard to comprehend all these years later.
However, I preferred the B side (about Arthur Alan Thomas, a famous case at the time of justice miscarriage with a guy being framed by the police for murders he had nothing to do with), although Don had to tone down the lyrics a bit for legal reasons. The original title was Thomas Is Guilty, and it had hilarious lyrics such as what about those hitchhikers too / I bet he did those too.
The single went to number 11 with zero radio play. There were two videos for this for some forgotten reason, both filmed in TVNZ's Auckland studios in Shortland Street, with the most viewed using their roof and their newsroom. TVNZ had generously given us the money to record a song for a video, in a convoluted way - so Depression was the song recorded so TVNZ could make two videos.
The Blam's were very good at getting grants - so much so we used to call Don 'Grant McGlashan'.
REV 12: The Birthday Party - Nick The Stripper
October 1981 (Festival cat # K8424)
A: Nick The Stripper

B: Blundertown

Recorded at Richmond Recorders, Melbourne, Australia, Jan 81. Engineered by Tony Cohen. Produced by The Birthday Party.
Keith Glass at Missing Link Records in Melbourne had become a buddy and offered me the Birthday Party records for NZ (which also meant I got to fly over to see them in live and in the studio in Melbourne a couple of times - there was absolutely nothing like The BP in their hometown in' 81) and suggested I release this with an unreleased B side.
We sold about 100 in NZ, but exported literally thousands to the UK and Europe. It gets rated on the rare Birthday Party lists and sells for some money.
| | |
| --- | --- |
| | REV 13: Nobody wanted the number so it was never used for a release. In the grand style of Factory Records, it was the office kettle. |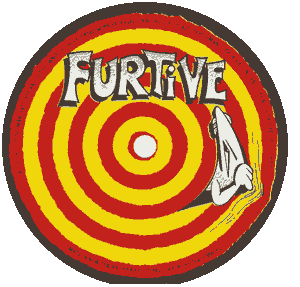 The Furtive label - .designed by Chris Knox
REV 14: Blam Blam Blam - Don't Fight It Marsha, It's Bigger Than Both Of Us
December 1981 (Festival cat # K8425)
A: Don't Fight It Marsha, It's Bigger Than Both Of Us

B1: Dr. Who, B2: Cachunga Cachunga

Recorded at Harlequin Studios, Auckland, October / November 1981. Engineered by Paul Streekstra. Produced by Blam Blam Blam and Paul Streekstra. Artwork by John Reynolds.
Another favourite and the only ballad we ever released as a single.
The guys played it to me at their practice rooms in Hobson St (where the Auckland Casino now is) and I was gob-smacked, just before the Screaming Blamatic tour.
I said at the time it was to be their next single but there was some reluctance as I recall, as there was a feeling that Mark Bell should have the next single A side - the Blams were very democratic like that.
This was a top Top 20 single without a single minute of commercial airplay but should have gone higher. Radio Hauraki's programmer - they were the major station at the time - simply refused to listen to it.
There was, I recall, a much longer version recorded too, and I guess it exists on the multi-tracks somewhere as it wasn't mixed.
REV 15: The Screaming Meemees - Sunday Boys
December 1981 (Festival cat # K8426)
A: Sunday Boys

B: At At

Recorded at Harlequin Studios, Auckland, October / November 1981. Engineered by Steve Kennedy. Produced by Ian Morris. Artwork and Photography by Murray Cammick. Drawing by Tony Drumm
A bit of a live anthem - the band used to draw out the drum solo on stage just to drive drummer Yoh nuts as he waited for the rest of the band to come back in) - no radio at all of course. In Wanganui whilst we were promoting this the PD of a local station asked the band if they planned to record!
There was no video of the A side- I sent the band to Wellington to make it with TVNZ and they made one for the B side, so the TV hit shows (this got to 11) played still images of the band instead.
I remember the swell as 30,000 people at Sweetwaters in January 1983 singing way-oh way-oh over and over again when the band paused mid song during their headlining spot.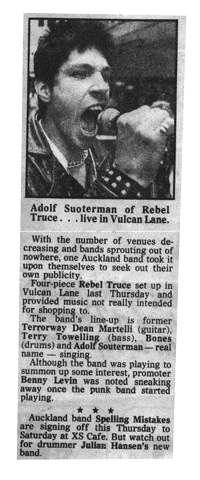 REV 17: Blam Blam Blam - Call For Help
May 1982 (Festival cat # K8791)
A: Call For Help

B: Learning To Like Ourselves Again

Recorded at Harlequin Studios, Auckland, Jan / March 1982. Engineered by Paul Streekstra. Produced by Blam Blam Blam and Paul Streekstra. A side featuring Ivan Zagni. No picture sleeve.
From their album, as Festival felt we needed another single. We didn't, but its still my favourite Blams single with a gorgeous video. It reached the mid thirties on the singles chart and featured Ivan Zagni on guitar.
The B side is was my favourite Mark Bell Blam's song, and perhaps should have been an A side in its own right rather tucked on a flip.
REV 18: The Screaming Meemees - F (Is For Fear)
June 1982 (Festival cat # K8792) (Australian pressing pictured)
A: F (Is For Fear)

B: Orson Welles

Recorded at Harlequin Studios, Auckland, Jan / April 1982. Engineered by Steve Kennedy. Produced by Ian Morris. No picture sleeve. The A side was a duet with Kim Willougby.
From the Meemees album. Both the A side and the video of the song featured singer Kim Willoughby, from The Gurlz, who was then girlfriend to Meemees mascot Terry Towelling. She later married the very patient Ian Morris who produced this after meeting him on the sessions.
The videos (for both sides) were filmed in soundman Tom Sampson's parents' wonderful nineteenth century mansion on Auckland's Northcote Point.
REV 20: The Bongos
November 1982
A: Falling

AA: Monotony

Recorded at Harlequin Studios, Auckland, September 1982. Engineered by Lee Connolly. Produced by The Bongos. Artwork by The Bongos.
A great live, very percussive, band who supported both The Blams and The Newmatics many times. A double A sided single that didn't exactly set the world on fire sales wise but has become very, very collectable over the years.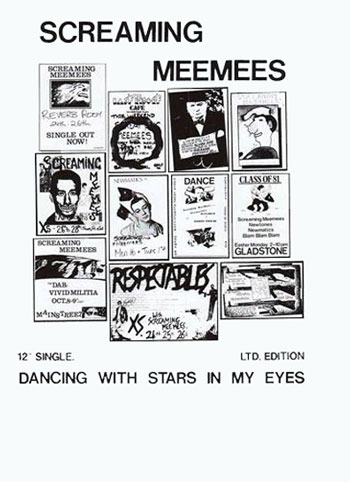 REV 22: The Screaming Meemees - Stars In My Eyes
February 1983 (Festival cats # K8966 / K9090)
A: Stars In My Eyes (7" Edit)

B: Day Goes By

A side recorded at Mandrill Studios, Auckland, December 1982. Engineered by Glyn Tucker Jnr. Produced by Tony Drumm, Tom Sampson and Glyn Tucker Jnr. B side recorded at Harlequin Studios, Auckland, March 1982. Engineered by Steve Kennedy. Produced by Ian Morris. Artwork by Simon Grigg. A side featured Steve Anderton (Trumpet), and Peter Urlich (Handclaps).
I love this record - a great song, a good recording and way ahead of its time for NZ. Only two members of the band appeared in the video as Michael had left the band by then over an argument with Tony who had broken up with his girlfriend who happened to be Mike's sister, if you can follow that.
The video, below, was directed by filmmaker Willie Kiddell and cost $129 and was so cool albeit in a very rough and ready way. Roadie Terry Towelling played the silhouette of Mike behind a screen.
The single only reached Number 17 but actually outsold all the earlier Screaming Meemees singles, except See Me Go, by a margin. The NZ charts were always more about who was filling in the returns rather than any sales.
AudioCultureAudioCulture
REV 24: Export Lamb - Chicken On A Wire
March 1983 (Festival cat # K9042)
A: Chicken On A Wire

B1:Someone To Blame, B2: Be The Boss

Recorded at Harlequin, Auckland, January, 1983. Produced by Steve Kennedy
After the Blams' van accident (in which he almost died) Tim teamed up with Nick Crowther from The Prime Movers and released this. Notable for its hand printed brown bag. The lowest selling Propeller Record sadly - some 42 copies, but in retrospect it's a minor classic.
If you own a copy of this you own a very rare record.
REV 27: Sistermatic - Million Dollar
1989 (Withdrawn) (Festival cat # K754 / C754 cassingle)
A: Million Dollar (7" edit)

B: Million Dollar (7" Instrumental)

Recorded at Keith Ballantyne's Link Studio, Ponsonby, Auckland, 1989. Produced by Benny Staples, Sid Pasley and Mark Clare. Featuring Koi Ski on rap, and Sina, later of OMC, on vox. The sleeve here is from the cassingle.
The 7'' of REV 27X. Until 2006 I didn't know this existed, being released by Festival without my knowledge. Did it make the shops? I don't know. There was also a cassette - pictured.
REV 301: The Birthday Party - Mr Clarinet
1981 (Missing Link cat # MLS-18)
A: Mr Clarinet

B: Happy Birthday

Recorded at Richmond Recorders, Melbourne by Tony Cohen.
Imported Australian pressings of this Birthday Party single, stickered with the Propeller cat #. This was the very rare two colour Australian labelled versions (pressed at Astor).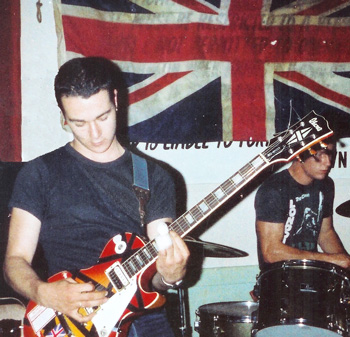 Andrew Boak & Karl Van Wettering, No Tag
FUR 2: The Newmatics - Broadcast OR Double EP
October 1981
A: Doobie Doo Boy, B: Crossed Wires

C: Broadcast, D: Riot Squad

Recorded at Harlequin Studios, Auckland, June-Sept 1981. Produced by The Newmatics, Don McGlashan and Steve Kennedy. Engineered by Steve Kennedy and Lee Connolly. Artwork by Mark Clare.
We used to get asked all the time what OR stood for - Our Record - a plaintiff but ignored plea for radio in NZ to play the records we were making. It took all our powers of persuasion to get CBS to do the packaging. Paul and I spent quite a bit of time with CBS exec Murray Thom who wanted to put it out in a single sleeve with no picture sleeve.
It hit number 13, however because of the packaging we only got 5c a record back. Riot Squad, actually about a police raid at a gig at XS Cafe in Auckland's Airedale St, became an anti Springbok tour anthem, thus being used as the centrepiece in the excellent TVNZ documentary of the whole nasty, sad episode shown in 2000.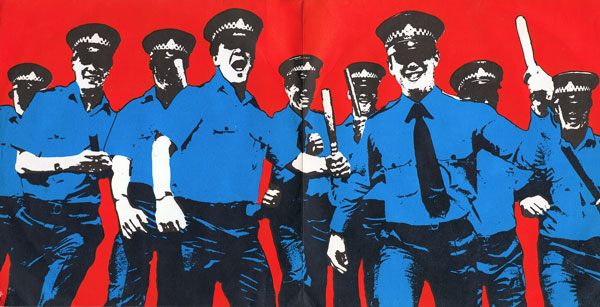 FUR 3: The Newmatics - Square One
May, 1982
A: Square One

B: Land Of 1000 Dances

A recorded at Harlequin Studios, Auckland, January 1982. Produced by The Newmatics, Tom Sampson and Steve Kennedy. Engineered by Steve Kennedy. B Side recorded live at Mainstreet, Auckland by Simon Mark-Brown. Artwork by Mark Clare.
The last single, released after the end of the band. They rang me on tour (we were on tour with the Meemees and they were in Auckland) to announce the split. What about the single, I said...sorry they said.
It reached number 42. The b side was off, I think, a whole unreleased live show of The Newmatics and The Screaming Meemees. It illustrates why Mark Clare was such an incredible blue-eyed soul vocalist.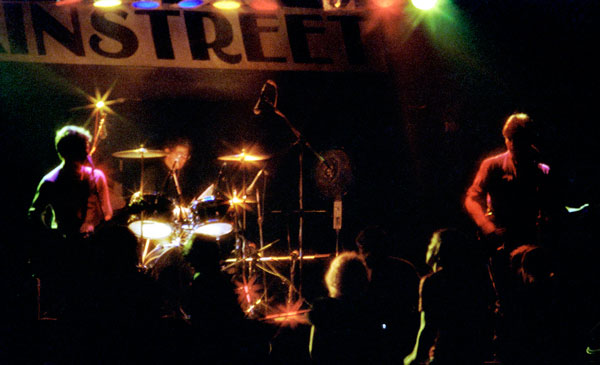 The Prime Movers at Mainstreet, Queen St, Auckland, 1982
FUR 5: The Prime Movers - EP
October, 1982 (Festival cat # K 8797)
A1: Crying Again, A2: Walk On By

B: Hard To Bear

Recorded at The Lab, Auckland, August - September 1982. Produced and Engineered by Doug Hood. Artwork by Nick Crowther and Milton Keynes. Photography by Alison Van der Arde.
This band originally featured Chris Matthews, later Children's Hour then The Headless Chickens, on drums. He was replaced by Benny Staples from The Newmatics, who appears on this.
Led by Nick Crowther, this is a great power pop record from a killer live band, produced by Doug Hood who was so central to the indie scene in NZ in the 81-85 period.
no sleeve

FUR 7: The Dabs - Just Another Day
Unreleased
A: Just Another Day

B: Night And Day

Recorded at Harlequin Studios, Auckland, September 1982. Produced Steve Kennedy & The Dabs. Engineered by Steve Kennedy.
Caught up in the Meemees / Blams / Harlequin fiasco, it was never released. You can hear it here.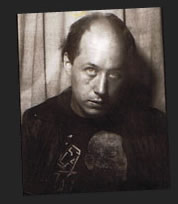 the author, 1980 in company promo T Shirt
Propeller & Furtive History
Propeller 12" Singles
Propeller Albums