Part 2: 1988 to 1990
Berlin
(The basement in Wellesley Street near Queen St-now part of The Wintergarden 1988-9)
After Peter and Mark left Le Bom (or, more truthfully, the greedy co-owners of Le Bom forced them out and stupidly killed the golden goose) they did a series of illegal warehouse parties - the sort where you find a warehouse, hire a few DJs and fill the place through word of mouth. That is, until the cops turned up at one in Nelson Street and confiscated the booze, donating it to themselves and denying it had ever existed. The DJs were Roger, Peter, Mark and myself.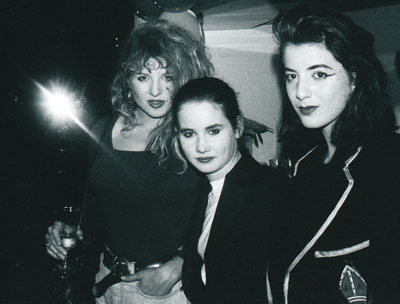 Lulu, Brigid and Monique @ The Siren, 1989.
Photo: Brendan Harris
Thus the duo were well keen when a young guy, Mario Dean, offered them a door deal to host his father's failing club in Wellesley Street, Club 21.
They soon opened in the glitzy mirror and stainless steel mock luxury that had been countless clubs over the years.
At one stage the place had been King Creole's, hosted by Tom Sharplin and his cousin, Russell Crowe (about the time Russell released his prophetic "I Wanna Be Like Marlon Brando" single for local label, Ode) and we used to spend a bit of time down there with Russell in the early 1980s.
Later it was stripped out to become Club 21 again, and then the downmarket JDs, but when Mark & Peter took over it still retained the old King Creole's Cadillac set high in the wall over hanging the dancefloor. It had once been the DJ booth (now moved more conveniently and substantially more stable down beside the dancefloor) and added drama to a perfect club space.
Once again the beautiful people tripped down the stairs, past Riseti (known to all as Rose), a doorman extraordinaire who soon set the standards that all Auckland doorman are still measured against, and Giselle Tresevant, who took the money.
The club was all gold and mirrors and far glitzier than any of the other clubs had been in this lineage to date. It was a time when men wore suits (edgy, often double breasted hand tailored by Michael at Strangely Normal – or loud suits designed by and from Greg and Brendan Main's Monsoon in Vulcan Lane, complete with a Clacton & Frinton shirt) and the girls had to navigate the stairs in heels and bubble skirts.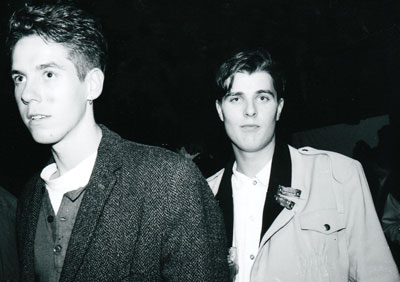 Brent Lawler and friend, Roma.
Photo: Brigid Grigg-Eyley
VIPs included Mick Jagger and Bryan Ferry as well as the sort of Parnell fashion dames who still thought there was something ab-fab about tripping across to the dark side, and indeed it was these sorts – slighty desperate to hang with with the gorgeous groovers – that scared a fair number of the harder edged clubbers away.
That, and Mark and Peter's girlfriends coming down on the occasion to check up on stories of part time flings. (It got very messy on occasion as girfriends screamed and threw chairs across crowded dancefloors.)
They'd hired a DJ, Andy Vann (Mark also spent quite a bit of time spinning but Peter was more the host, which had long been his role in their partnership; he started DJing again a few years later), a young guy who had cut his teeth playing commercial clubs in West Auckland and Queen Street. Andy didn't last long though, feeling frustrated at the limitations of the job and was replaced by Mike Haru, later a Mai FM radio star, calling himself Mike Stowers at the time.

They also approached Roger and I to do Thursdays as they weren't working and we opened as The Trip, playing acid house, techno, house and hip-hop, and a whole bunch of great records that we found that the back of the DJ booth. They had been sent these from NYC but wouldn't play them 'cos they didn't play house – records like Break For Love by Raze, which was soon the biggest dancefloor single in Auckland. Thursday nights were huge and sold out pretty much every week.
It wasn't our club, so Roger and I decided to push the boundaries as far as we could – and it worked, firming the philosphy I took to the Box eventually.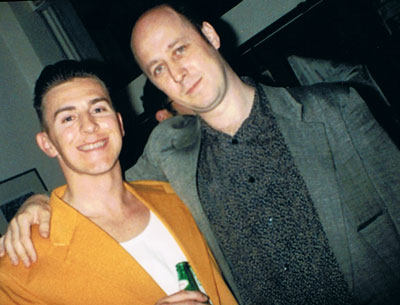 Simon & Dennis Blair @ The Playground, 1988
Eventually the owners decided, yet again, that they did need any of us and tossed Mark and Peter out. Roger and I had by that time already moved onto The Siren and the club had started to slow down badly, which probably accelerated Mario's move to oust the two.
In the early nineties the Pierard Brothers, Gerhard & Karl, whose history included the famed (but rarely visited by anyone from Auckland sadly) early 80s Buffalo Bar in Palmerston North, and Clare's in Wellington, opened Bad News Barbie in the space for a while, but, as fun as it was it never really took off.
In its final years this venue was a very dodgy club, initially reverting to the Club 21 name, and later, JDs. Neither are a part of this story, nor should they be.
The Trip trips:
Royal House - Can You Party
Inner City - Good Life
Young MC - Know How
MC Tee & Lord Tasheem - Gangster Nine
Raze - Break for Love
Joe Smooth - Promised Land
Black Riot - A Day in The Life
Phuture - Acid Track
A Guy Called Gerald - Voodoo Ray
Frankie Knuckles - Your Love
Roma
(The basement on Queen Street under the Civic t-now part of The Wintergarden 1989-90)
Peter and Mark bided their time after the end of Berlin. Tom and I opened The Siren and Peter wandered around overseas for a bit.
Shortly after The Siren opened, Johnny Tabla, who owned the whole club complex under The Civic, under lease from The Auckland City Council (he was Mario Dean's landlord, which shows how complex this stuff can really get) approached Peter about taking over his floundering club next door to Berlin/Club 21. It had been a club for decades and was a relic of the old school Phil Warren / Johnny Tabla owned, put a covers band in there and play the hits, sort of place that dominated Auckland's night life for years.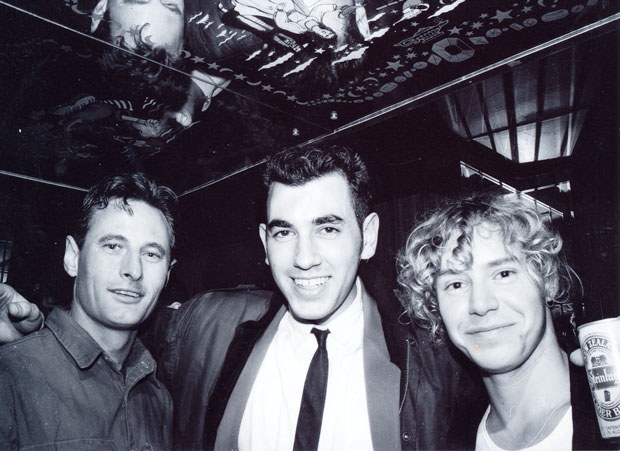 But it's time had gone and it was dead. So Johnny (he was universally known as Johnny Fucking because he couldn't say a sentence without the word, often, since English was his second language, misplacing it: "Open the door fucking...") approached Peter and Mark who jumped at it.
They polished the place a little with a of Gavin Chilcot artwork and made the most of the space and Johnny's trademark mirrors. It open in mid 1989, with a similar DJ lineup to Berlin, but once again, little in the way of house or more contemporary sounds.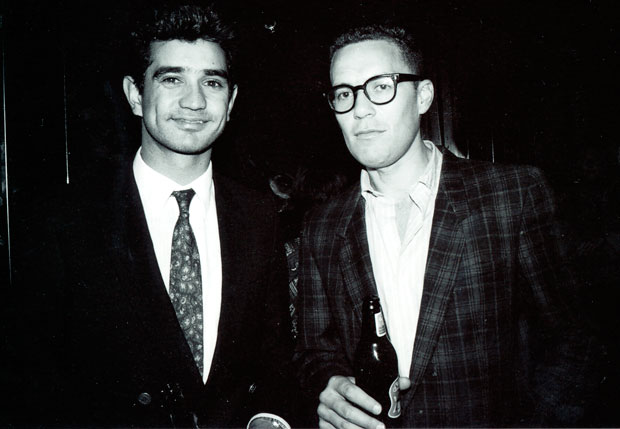 Peter Urlich (& Russell Maiden) at Roma doing his best Thomas Dolby impression, 1989.
Photo: Brigid Grigg-Eyley
Its Thursdays though, were a roaring success, with a young DJ, Jonathan Stowers, later to become one of Auckland's pioneering Drum'n'Bass DJs, as 48 Sonic, playing a harder edged rave set.
Once again the crowds flowed down the stairs, the mix being similar to Berlin, but it was relatively short lived, and, perhaps because of the musical policy, it died very suddenly almost overnight at the end of 1989, as the hardcore club kids congregated up at The Siren, and, soon, Box, in the now dominant High Street scene.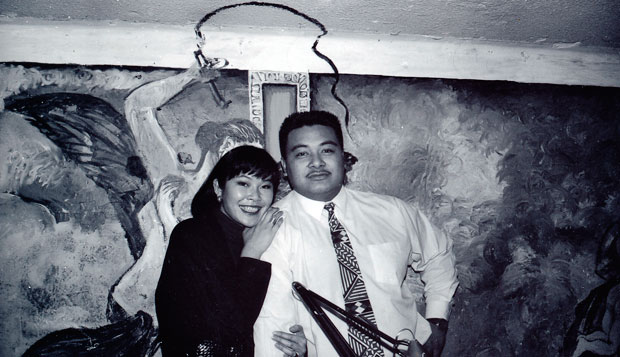 Geeling & Soane @ Roma
Photo: Brigid Grigg-Eyley
Roma really marked the end of Peter and Mark, the founders and pioneers of the Auckland club scene, as we know it now, as a force in clubbing. Mark moved into the record industry, working for BMG and PolyGram (he was a driving force at that company, behind the success of both OMC and Nathan Haines, when it distributed my huh! label), moving to Sydney, where he remains to this day.
Peter's history in NZ after this includes, of course, the massive and very influential Nice'n'Urlich and the celebrity spotlight.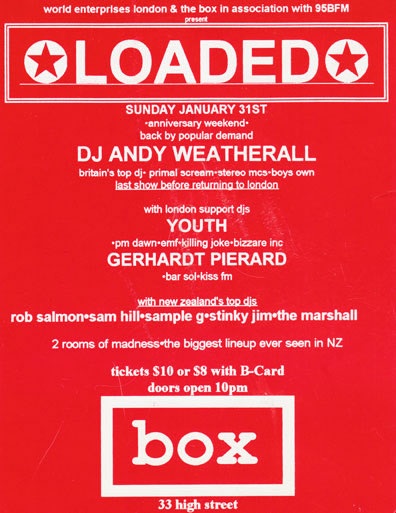 Andy Weatherall @ The Box. The first 'international' in Auckland and one that changed the face of the city's clublife
. January 1993.
High Street
From December, 1988, and for the next decade, Auckland's High Street dominated the city's edgy entertainment scene (and was the city's fashion/style district), and evolved into a club/bar circut.
This dominance was anchored by two key venues, Cause Celebre / Box in the centre, and Hotel De Bretts at the bottom of the street.
De Bretts had a series of changing bars, including, at times, The Wine Bar (later Crane Brothers Menswear), The House Bar and Delmonicos upstairs, both of which had DJs (later, about 1995, Delmonicos mutated into The Red Zone, with DJs Rob Warner and Andy Vann), and The Shortland Bar, which had Manuel Bundy playing every weekend to huge crowds.
All of these fed into Cause Celebre and Box.
The street also hosted Alfies, under The Century Arcade, a gay club but also in practice a place which was quite blatantly full of very underage kids, who were educated pretty well by DJs Bevan Keys and Stephen Green (later the co-owner of Principals clothing chain).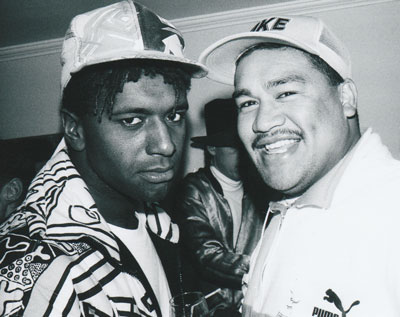 Jon Davis & Tim Sulusi, @ The Siren, late 1989. Kevin The Hat in the
background. Photo: Brigid Grigg-Eyley
Other clubs came and went around the zone, most briefly: around the corner in O'Connell Street was Squid, with Mikey Havoc; in Vulcan Lane was a live venue, The Voodoo Lounge, and behind it was Dennis Blair's private Dragon Bar, across Queen St, later on, was The Crow Bar, and a variety of other bars which came and went.
These bars and clubs all contributed to the huge crowds that filled the street every Friday and Saturday from about 11pm to dawn. Thousands of people spent large parts of their lives there; there were food carts, coffee shops, Poi's 24 hour Rosinis restaurant, where the DJs and bands congregated; buskers, cops and an ongoing street party as people did the endless circut.
The daytime was dominated in the early days by Potter Blair, where Trevor Potter And Dennis Blair mixed hairstyling, cafe culture and art dealing in Vulcan Lane, all served by minor TV celebs or major High Street faces.
The end of the The CC / Box era, the rise of Calibre, and the closure of De Bretts largely ended it all about 1998 and it moved to K Rd, where it never quite attained the level of community it had enjoyed downtown in the previous decade.
The Siren
(The basement 35 High Street and later 33 High Street 1988-90)
After The Playground Tom and I took about six months off. We both went to Europe and NYC, hung out with Harry Ratbag and went clubbing and all the other things you do in NYC & London on holiday.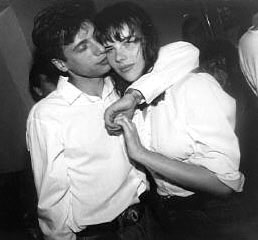 Karen Walker and Mikhail Gherman at The Siren,
1989. Photo: Darryl Ward
I released a couple of records and DJed a bit with Roger, and at various dance parties.
By November the money was getting low – we were bored and looking for an opportunity. The stock market crash had left the old Club Mirage, formerly the home of the rich and fabulously fatuous, looking a bit sad and empty so I rang Joe who owned it and asked if he was interested in selling it. He said no.
A few weeks later I went down there – it was the ideal spot, and asked him face to face. This time he agreed that the time had come to move on. We bought it on the 5th of December 1988, and re-opened as The Siren on the 9th of December 1988.
We kept on one barman, Al Murray, to tell us where things were, put in a big Cerwin Vega Soundsystem, replaced the brass Mirage plaque on the door with The Siren (as we'd decided quickly to name it) plaque and we were open.
The DJ line-up was myself, Roger Perry and a new guy who had arrived from London, Jon Davis, the 1986 World DMC DJ Champ runner-up. On our first couple of weekends we issued membership badges and turned away Club Mirage gold cards with glee. I refused to let Rachel Hunter in and she stomped her wee feet and bawled 'don't you know who I am?'
The answer was still no.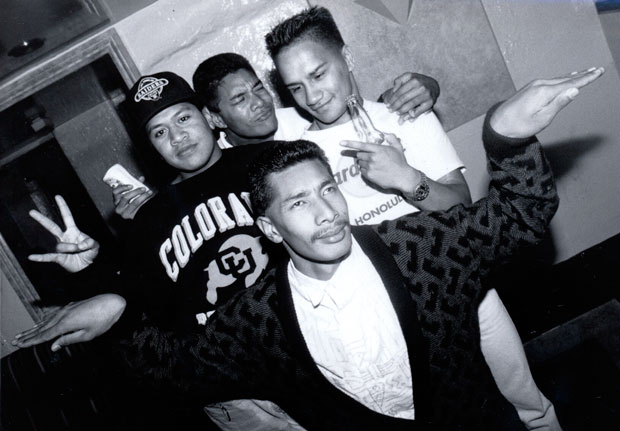 The DJ booth we inherited from Mirage was a funny little thing with heavily tinted glass windows, and a quickly replaced junky mixer, so we could get up to all sorts of things in there.
We pinched Rose (Riseti) from Berlin as our head doorman, backed by Sam and Leonard, and replaced the rest of the staff with our people – head barman was Roger's boyhood friend, Ian Marriott – and turned up the volume.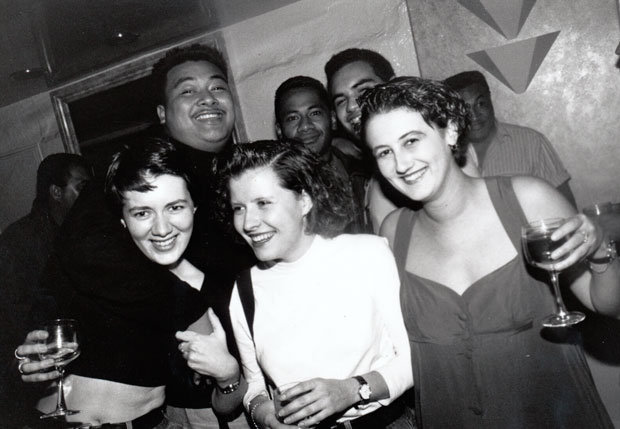 Soane and friends, Siren 1989
Photo: Brigid Grigg-Eyley
It was instantly busy and the opening really signalled the rise of High Street as party central (see above).
The old Mirage mafia, with their estabished voice in the media, turned on us fairly quickly, which amused us. Metro, in their celebration of all things has-been, Felicity Ferrit, called us 'the hellhole in Hight Street where even the cockroaches wear shades.' We used the line in a press ad, adding two endorsements, John Lydon and Roland Gift, both of whom, having spent a bit of time at the club, said, in writing, that it was one of the best clubs on the planet. We liked that.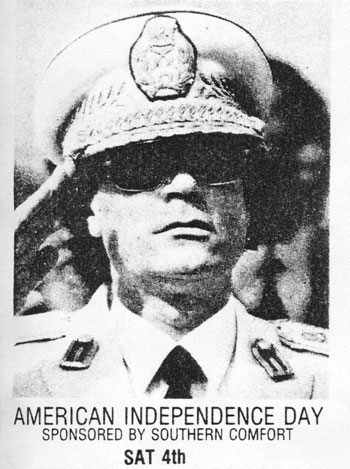 Shortly after we opened Tom, and myself went exploring and found a door at the back of the coat check. We went through to find a big empty room, with the remains of a dead cat on the floor! Tracking down the owners, we asked if we could lease the space.
The room was the basement of the long gone RSA, which had somehow been forgotten when the old soldiers moved down to Fort Street and the owners shut it off by putting a car pack in above. We rented it at $50 per week – which even in those days was a deal. Knocking a hole in the wall by the coatcheck, in June 1989 we hired another DJ (Sam Hill) and tripled the size of the club.
The new room was to be our House room and the other, original, side was dedicated to funk and soul. Its not unusual now, but then it was the first time a club in Auckland offered two DJ setups in different rooms.
By the end of 1989 Peter and Mark had opened Roma and the Mirage fit out was looking a bit tired so we decided to re-invent and re-vitalise – to seize back the initiative. Jon Davis suggested the name Box (it was never THE Box) for the big room and we just needed a name for the Mirage Room...
The Siren Trax:
Public Enemy - Don't Believe the Hype
Ten City - That's the Way Love Is
One Way - You Better Quit
Tyree - Turn Up The Bass
Jesse Johnson - Every Shade of Love
Luther Vandross - It Really Didn't Matter
Doug Lazy - Let it Roll
The Todd Terry Project - Weekend
Jamie Principle - Baby Wants To Ride
A Guy Called Gerald - Voodoo Ray (Frankie Knuckles Mix)
Smith & Mighty - Walk On By
Soul II S0ul -Fairplay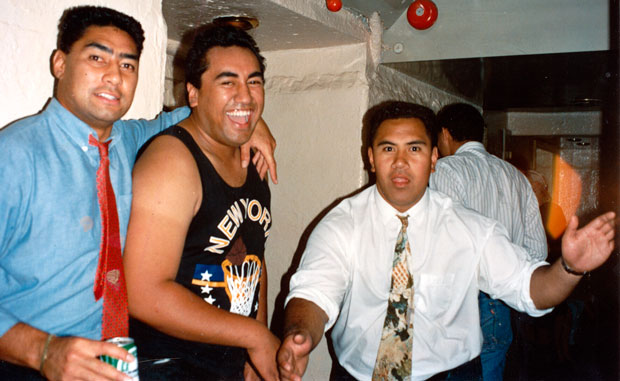 Joe, Sene and Rose at The Box 1990
Photo: Simon Grigg