told what to do by the megaton / so you might as well die while you're having fun........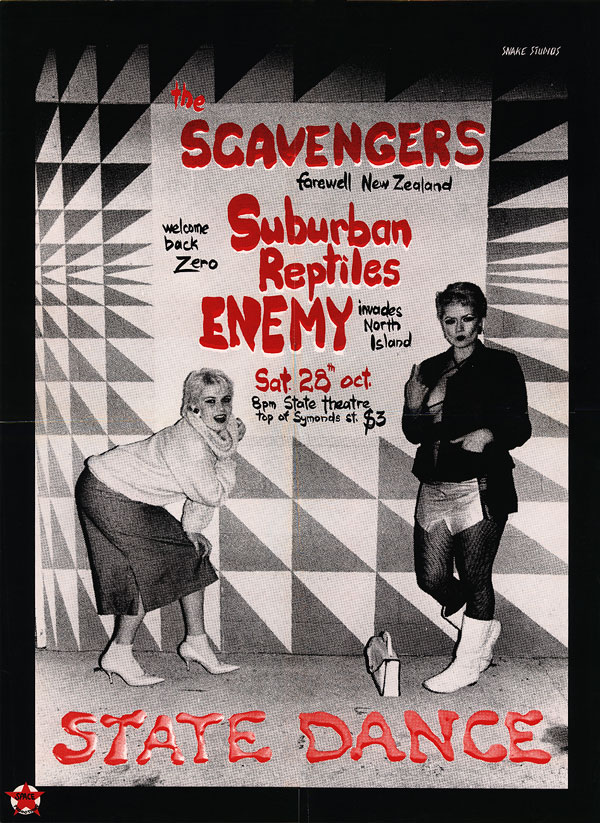 The Suburban Reptiles - along with The Scavengers - were the first 70s styled punk band in New Zealand.

By late 1976 the revolution in style that blew up in the first part of the decade, firstly in New York, and then in London (from where it went around the world) had touched, however slightly, Auckland, New Zealand.
Whilst the rest of the country was blissfully unaware, the revolution independently threw up the two bands who began the movement in New Zealand. The difference between the two was a matter of approach. Almost from the start, the Reptiles repertoire was almost wholly original whilst The Scavengers played mostly covers until the middle of 1978.
The other obvious point of difference was the positioning of the two acts. While the Scavs were working class (-ish), the Reptiles were more art school. Since both bands came out of Auckland tertiary art institutions, and probably came from similar backgrounds - quite middle class - this was, in both cases, a conscious stance. Of course, the Scavs could actually play their instruments too (especially Des who was quite a powerhouse) - but, hey, let's face it, lack of musical ability never held a punk band back.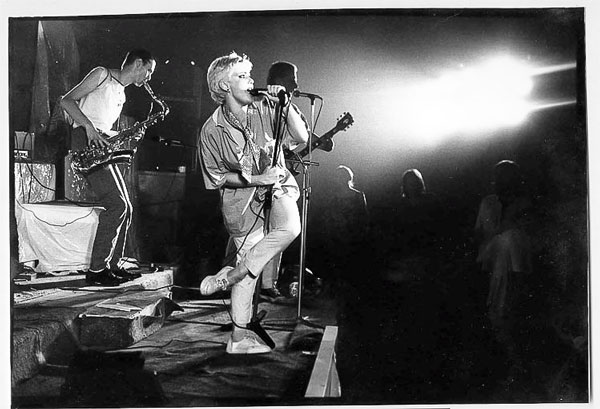 How it All Began - or at least a vague recollection of it
Jimmy Joy (Brett Salter) and myself were going to form a jazz band, but, in late 1976, after having been shown a tiny live review of the Sex Pistols in NME by film director David Blyth, I decided that this punk thing had more going for it and went around to Jimmy's Ponsonby Terrace student flat to do the pitch - which he loved - and we agreed that our jazz band was henceforth a punk act. The first line up was fairly motley, mainly Jimmy's & my flatmates and Jimmy's girlfriend Clare on lead vocals.
That band almost played live... the story is here.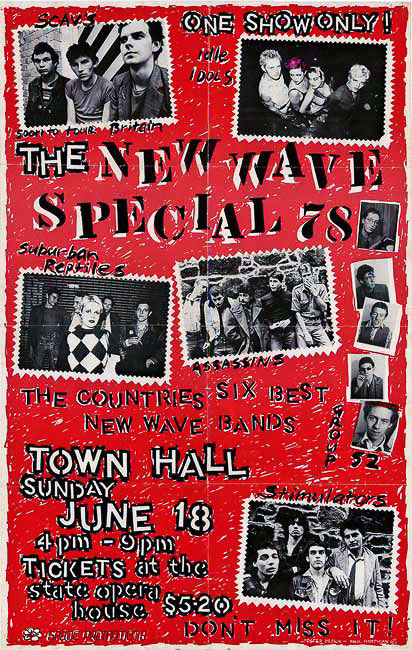 living out of a suitcase / life at a breakneck speed...

After original drummer Des Edwards left to become a juggler, he was replaced by Buster Stiggs (Mark Hough) (formerly in After Hours with Neil Finn). Jimmy and Zero had somehow found Buster in Auckland's Queen St.
The original guitarists Sissy Spunk (Trish Scott) and Shaun Anfrayd (Brian Nicholls) quit a couple of months later leaving Buster on drums, Zero (Clare Elliot) as vocalist, Jimmy Joy on sax and occasional vocal, and Billy Planet (Will Pendergrast) on both bass and guitar.
This was the core of the band - with various add-ons including Johnny Volume from the Scavengers on guitar, and Bones Hillman (the Hillman came from his car - I needed a surname for the first bio I hurriedly wrote and it stuck) on bass. As co-founder, I designated myself manager - simply because I couldn't play an instrument, although I hit the drums for two rehearsals.
This was more a symbolic title as I had no experience - things were fairly haphazard at best to start with.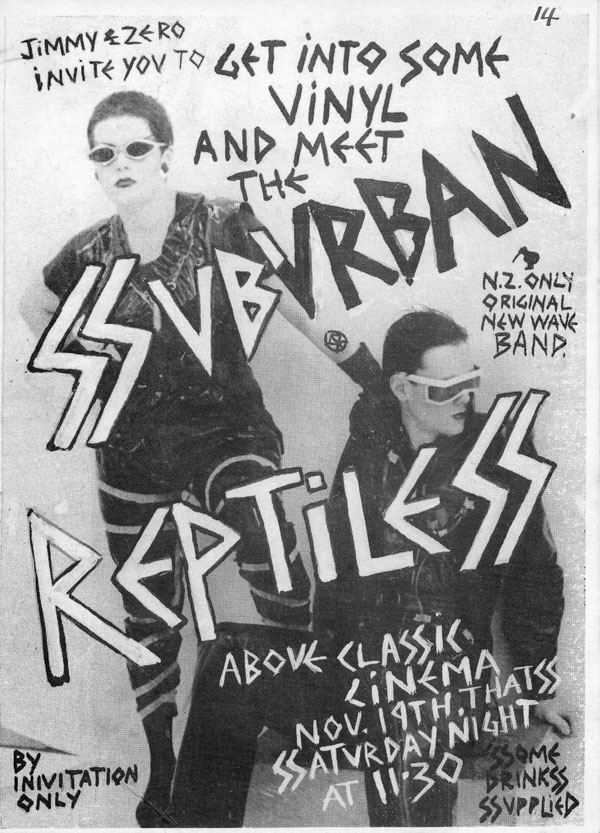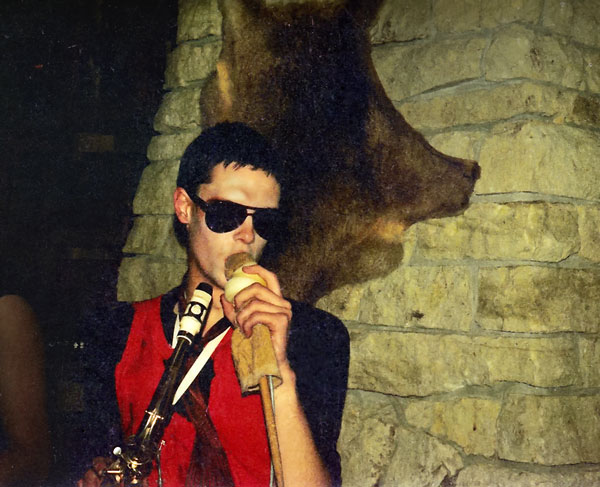 Jimmy, Massey, Auckland, May 1977
The first gigs, often using gear borrowed from Split Enz (who were unaware of the loan, being in the UK), were interesting.
We got thrown out of the Auckland University Quad after trying to crash a gig by Th'Dudes (at my friend, and Dudes' singer, Peter Urlich's insistence); borrowed a van and driver from the NZ Anarchist society that was quickly impounded by the cops when the driver refused to obey street signs; fired from a Catholic Boys School ball after one song - something to do with the (now regrettable) swastikas, not knowing Deep Purple tunes (the kids were chanting for Smoke On The Water - the band started a song with the iconic riff then went immediately into Coup d'etat), my having booked the the gig by telling Benny Levin, the legendary 60s promoter, they were an "urban blues" band, and calling Brother Humphries a fascist; sold out the University's Maidment Theatre; featured in media 'fashion' shoots, and played the chaotic but enjoyable 1977 Elam Art School Ball.
Film survives of the last and is currently being restored by the NZ Film Archives.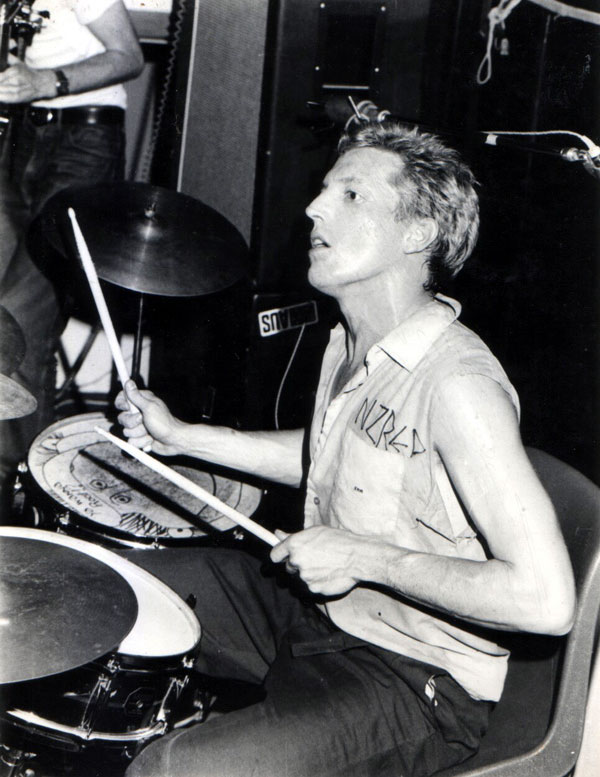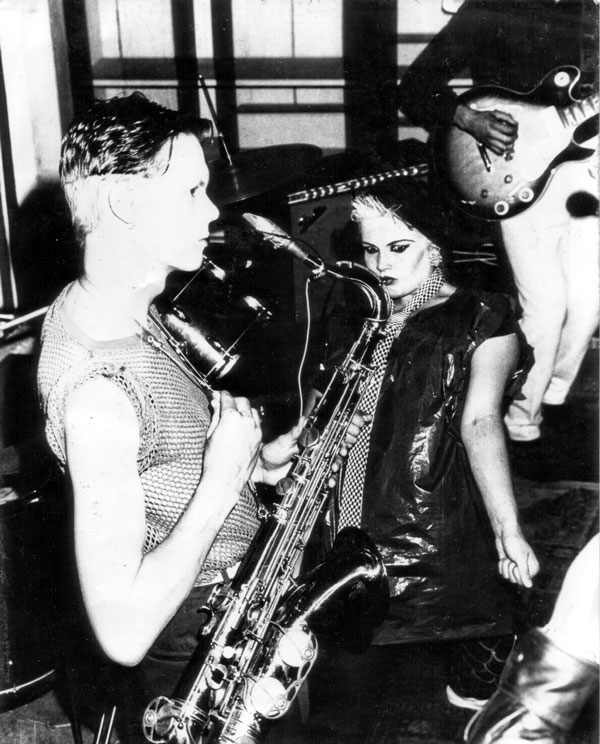 Buster, Zero & Jimmy, Jan 78
Photos: Jonathan Tidball
The band reduced THE fashionable party of the year - they were dying to experience 'punk rock' - from five hundred to five in three songs as the others left appalled at the vision and noise of it all; and - with the Scavengers and Masochists - drew an over-capacity crowd at the Uni Cafe, where Billy Planet emptied the cafe's full rubbish bags over the crowd.
The last was the first major punk gig in New Zealand, on July 16th, promoted by David Blyth and myself to raise money for his forthcoming Angel Mine movie. The Reptiles also featured strongly in the soundtrack of that controversial film.
By August 1977 there were still less than thirty of us in Auckland, although the second generation punks, the likes of Kerry Buchanan and John No-One, were starting to appear at places like Disco D'Oras' in Newton Road, and Crofts in Airedale Street, some of the very few places that would host punk in a city which was still not sure but slowly embracing the changes.
Even so, walking down Queen Street, whilst not threatening, was often an experience as kids pointed, abused and - more often than not - simply looked bemused at a sight which contronted their everyday ideal of what people where suppose to look like in 70s New Zealand.
By October 1977 it had all started to grow and by the end of the year there were perhaps a hundred so-called 'punks' in Auckland. 1978 would see that number explode as the facsimile punks and kids from the burbs arrived at places like Zwines.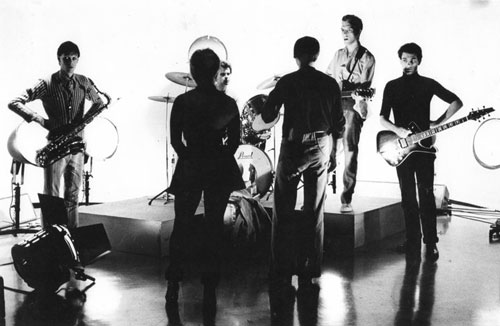 Saturday Night Stay At Home video shoot
Our contrived 'punk rock horror' angle got the band extensive coverage in various Sunday papers time and time again - we managed to get on the front of three newspapers in one day once including a story that told of the band wandering down to the wharfs to strangle seagulls whilst picking up the cleaning fluid sent to sniff by our friends The Ramones in the US, from a compliant sailor.
The media hacks - hungry for a front page - would accept anything we feed them, and feed them we did as the nonsense bio below shows. Much of that was printed verbatim by an Auckland weekend tabloid.
On a Monday I'd ring the newsrooms to complain about the horrific scenes my child or myself had been forced to view over the previous days.
On a nightmare trip to Wellington - for the rather backward Students Arts Festival at Victoria - in August 1977 (if we thought Auckland was conservative, Wellington made it seem like NYC), with The Scavengers, a vigilante posse was formed to run us all out of the capital and the bands featured on the front page of a daily there every day for a week.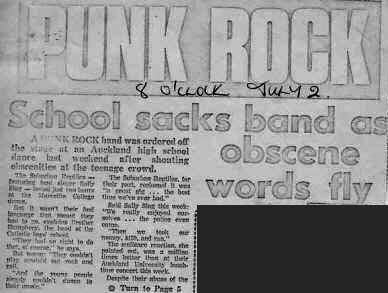 Elvis had just died and I managed to get them a set at a memorial gig that soon erupted into a brawl when the band announced on stage that his death was timely.
We recorded our first demos at Harlequin Studios in Mt. Eden in an all night session in August nominally produced by Tim Finn (although he was asleep for much of it). Two tracks from that session are on AK79 and the 2004 Raw Power EP.
In late 1977 The Suburban Reptiles were signed by Phonogram NZ. The A&R guy (who had quite a thing for Zero - he sweated profusely in her company and couldn't take his eyes off her chest) suggested that they should rush out covers English punk hits (Boomtown Rats etc), but this never happened.
I insisted that they were put on the Vertigo label, just so I could see the iconic 'hippie' Roger Dean label on a punk record. Silly but..
two minutes fifty / it's a forty five single / oh yeah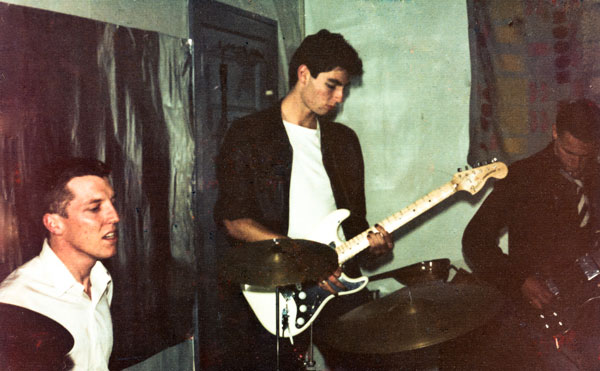 First practice with Buster. l to r. Buster, Brian Nichols and Billy.
Photo: Simon Grigg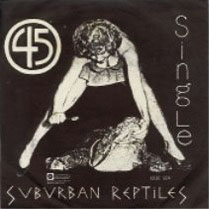 Saturday Night 45 rear.
How it ended...
Only two singles were ever released, the second of those plus another song, Rosie, featured in Angel Mine film (which helped earn it a 'Warning: Contains Punk Cult Material' censor's note).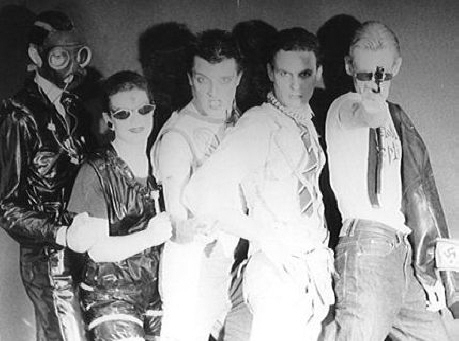 An Auckland Star photo from October, 1977
The debut single was a 12", the first ever released in NZ (I was intrigued by a 12" I'd been given of Mink Deville's Spanish Stroll and talked Phonogram into it). That single, Megaton b/w Desert Patrol, was recorded over three sessions, at Harlequin produced by Doug Rogers.
The final single recording came from the second session in early October. It was overdubbed and mixed at the third. Buster used the SS cufflinks we'd bought a couple of days earlier at a militaria shop at the top of Queen Street for the cover logo.
Six months after it's recording, the (self) important UK mag, NME reviewed the record, snidely stating that it sounded four months out of date. We had to smile.
There were two pressings. The total pressed was 501 with the first couple of hundred featuring the Roger Dean label. The second batch, of 301, had plain black and white Vertigo labels. Funnily enough, the publishers, Chappells (to whom Phonogram assigned the record's rights without ever asking) paid royalties on 601... 100 more than were pressed.
The A side - a bit of cold war apocalyptica - was written by Billy Planet, whilst the B side was inspired by the airforce uniform, complete with badges, I'd borrowed from my father, and was a Buster write.
The video of Megaton, long forgotten by all concerned, can now be seen here.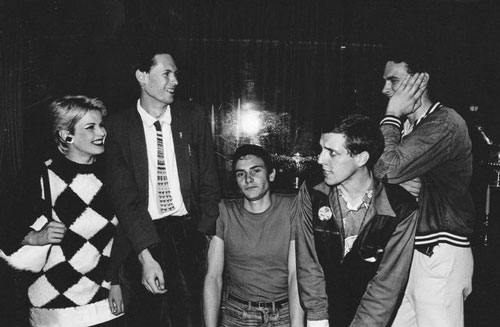 Photo: Paul Hartigan
The second was the glorious Saturday Night Stay at Home b/w 45 Single, produced by former Split Enzer, Phil Judd, who soon joined the band.
However Judd's personality, when combined with other egos and ambition, effectively destroyed the band.
At the Angel Mine premiere in Auckland's Civic Theatre in August 1978, two versions of The Suburban Reptiles played, one with Buster, Zero and Judd, and one with Billy & Jimmy. In 1978, before the collapse the band had toured New Zealand several times; Zero had been arrested for saying 'fuck' on stage (and acquitted - it's now a NZ legal precedent), and become nationally notorious.
Taking time off from the band, Zero also toured NZ as a cast member of The Rocky Horror Picture Show with Gary Glitter and appeared on the cast album.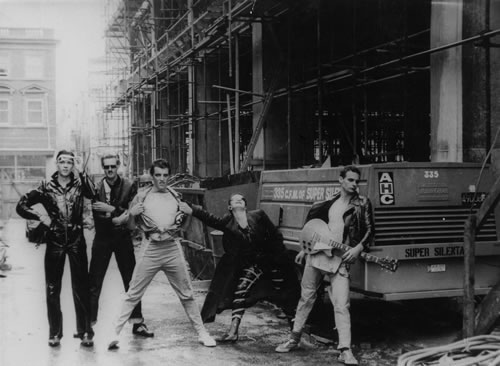 Another Auckland Star shot, in Jean Batten Pl., Auckland
An album was partially recorded at Stebbings and Mandrill but the tapes have long since walked - the story goes that after the Phil Judd debacle, Billy wiped them.
However, Billy claimed in 2004 he had discovered these again or at least copies in a long forgotten drawer. Who knows...
In late 1979 the remnants mutated into The Swingers. Bones ended up later in Midnight Oil, Buster in The Models.
Buster provided most of the graphics for the band. After January 1978 he gave the band much of its direction and was its driving force, which caused increasing friction with the other three core members. That said, it's doubtful that without his drive the band would've survived as long as it did and had the influence it did on NZ rock'n'roll in the years thereafter.
A poll on student radio in 2001 named Saturday Night as the best NZ single ever.
Photo: Simon Grigg
this is the coup d'etat / here comes the coup d'etat / we are the coup d'etat
Billy now lives in South-East London, where he and his partner own a restaurant, Zero lives in West Auckland, Buster was in Perth, WA, Johnny is in London, Jimmy is teaching in Wellington after some years in Hong Kong, Bones is playing bass successfully in Nashville, and was a long-time member of Midnight Oil. Trish, Tony, Roland – who was also in The Stimulators, and went on to a strong studio career as Roland Kileen / Morris in the 1980s and beyond – & Kim are also in Auckland. Shaun sadly died in a traffic accident many years ago, the details being sketchy. Des Edwards is missing.
Buster (Mark Hough) passed away in Perth on 7 January 2018 after a long illness. We love you Buzz.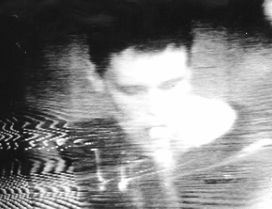 Elam Party, June, 1977.
we had some fun........
The Suburban Reptiles were, at one time or another: Zero (aka Sally Slagg - real name Claire Elliot) (vocals), Jimmy Joy (aka Jimmy Vinyl / Lino Clone - real name Brett Salter)(sax, vocals), Billy Planet (guitar, bass - real name Will Pendergrast), Bones Hillman (bass - real name Wayne Stevens), Buster Stiggs (drums, rhythm guitar - real name Mark Hough), Tony Baldock (bass), Johnny Volume (guitar - real name Ken Cooke) Shaun Anfrayd (guitar - real name Brian Nichols) Trish Scott (aka Sissy Spunk, guitar); Phil Judd (guitar), Des Edwards (drums), Kim Smith (vocals), Roland Kileen (bass - real name Roland Morris)
The Singles
Megaton (Planet) Desert Patrol (Stiggs) recorded at Harlequin Studios, October, 1977. Released Feb 6, 1978 on Partisan Politik / Vertigo 12" (first 12" released in NZ) 6036 920. Produced by the band and Doug Harlequin (aka Doug Rogers).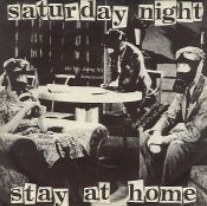 Saturday Night Stay At Home (Stiggs) 45 Single (Stiggs) recorded at Mandrill Studios 1978. Released on Vertigo 7", 6036 924, August 1978. Produced by Phil Judd.











Miscellany
Propeller was to release a four track EP in 1980 but it didn't appear. It included the two A sides and two unreleased tracks. It even had a cat number (rep3) but got lost in the rush somehow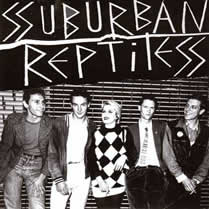 Both A sides plus the previously unreleased Coup D'etat (from the Finn Session) are on the Propeller re-release of AK79 (rev 503) 1994, via Flying Nun. The Megaton track on Ak79, however, is a 1993 remix of the take from the earlier Tim Finn session (which is not the session that the single came from) from the 4 track tape, by Simon Grigg, as the orginal 2 track single master is missing.
Saturday Night appears on the Propeller compilation Give it a Whirl (rev504) 2003, and on John Baker's AK 79 vinyl edition in 2008.


A limited edition vinyl 7" release of Desert Patrol / Coup D'etat plus the unreleased Razor Smile (from the Finn sesion) and Rosie was released in NZ (on pink vinyl no less). Raw Power (RP 009) 2004. The version of Rosie is the first part of the track from Angel Mine taken from a cassette in I own. The second, extended instrumental part is missing although it can be heard in the film. The first copies of the single were on pink vinyl, and came with badges.
45 Single is on Simon Kay's 2002 compilation Move to Riot. Raw Power (RP 008) 2002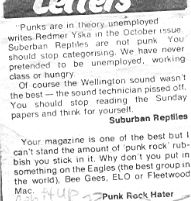 Saturday Night Stay at Home has turned up on a variety of compilations both authorised and unauthorised including Hits and Myths (CBS 1981) and John Baker's collections.
A Copy of Saturday Night was sold online by on Ebay for US$518 in October, 2008. Megaton (second edition..white Vertigo label) went on eBay for US$470 in 2007.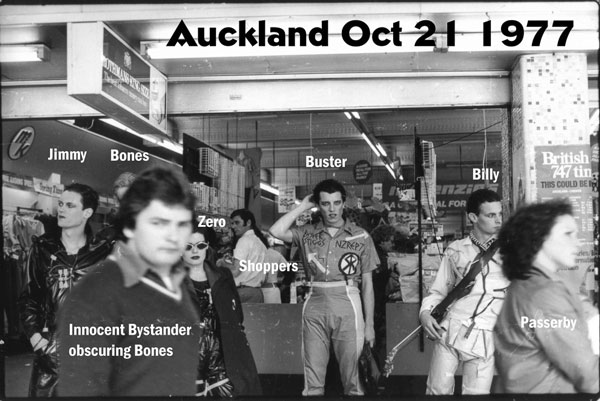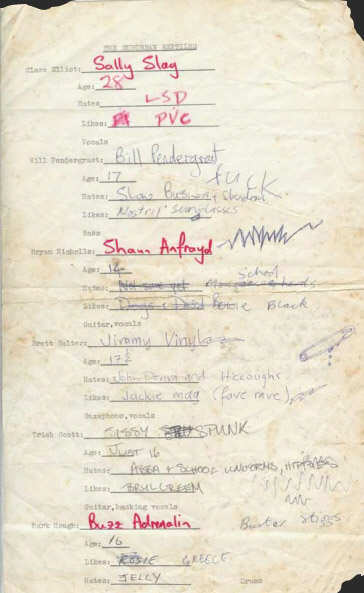 The an early attempt at a Suburban Reptiles bio, hurriedly written to be handed out at a Maidment Theatre gig in August 77, to awaiting Sunday tabloids.
It contains not a shred of truth but was gobbled up.
Photographs: Jeremy Templer, Simon Grigg, Mark Hough. Thanks to Simon Kay